Egypt removes Interior Minister Ibrahim in reshuffle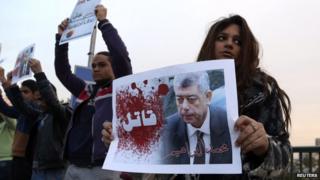 Egyptian Interior Minister Mohamed Ibrahim has been removed from his post in a surprise cabinet reshuffle.
Pressure on Mr Ibrahim had been mounting following police shootings of protesters and the death of a lawyer in custody last week.
Former National Security Chief Magdy Abdel Ghaffar has replaced him, taking over responsibilities for the police.
President Abdul Fattah al-Sisi's first reshuffle since his election win last May affects seven other ministries.
Mr Ibrahim was appointed by former President Mohammed Morsi, who was ousted by the army in 2013 after mass protests against his rule.
Retired general
Opponents of Mr Ibrahim have alleged that he orchestrated a crackdown on the Islamist opposition, leaving more than 1,500 people dead and more than 16,000 in detention since the overthrow of Mr Morsi in 2013.
Calls for the resignation of Mr Ibrahim reached a peak in January this year after the shooting of an unarmed leftist protester in central Cairo. The pressure increased last week following the death of a lawyer in police custody.
His replacement, Gen Ghaffar is a retired general and former director of the National Security Department.
Mr Ibrahim's removal comes alongside a reshuffle of the ministries of Education, Culture, Agriculture, Housing, Communications, Tourism and Vocational Training.
It is President Sisi's first cabinet reshuffle since stepping down as military ruler and winning an overwhelming election victory in May last year.