Syria's al-Nusra Front commander 'killed in strike'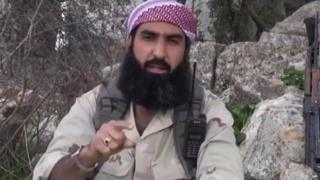 The military chief of Syria's al-Nusra Front has been killed in an air strike, according to social media accounts linked to the jihadist group.
The online sources claim three other leaders died along with Abu Homam al-Shami.
Syria's state-run news agency reported his death was the result of a "special army operation" targeting Nusra leaders as they met in northern Idlib province.
Al-Nusra is one of the most powerful groups fighting the army.
It has long been seen as an affiliate of al-Qaeda and was involved in a major attack on the Air Force Intelligence headquarters in the embattled city of Aleppo on Wednesday.
The US lists al-Nusra as a terrorist group and it is under UN Security Council sanctions. However recent reports suggest it may be seeking to break its ties with al-Qaeda.
'Unique operation'
There has been no official confirmation of Abu-Humam al-Suri's death from al-Nusra. There were conflicting reports from supporters of the group on Twitter, with some appearing to accept the news and others casting doubt.
The three leaders alleged to have been killed alongside him have also been named on social media as Abu Musab Falastini, Abu Omar Kurdi, and Abu Baraa Ansari.
However, Falastini and Ansari were already said to be dead. A tweet from al-Nusra's official Twitter account sent on 27 February said they had both died during air strikes on the village of Abu-Talhah.
Details of the latest attack are unclear. However, the official Syrian news agency described it as a "unique operation" carried out by the Syrian army in the al-Habit area.
Other sources quoted by Reuters said the strike had taken place in the town of Salqin, near the Turkish border.
News came as the UN's envoy for Syria, Staffan de Mistura, hinted to the BBC that the UN might negotiate with al-Nusra to allow much-needed aid to enter Aleppo.
Al-Nusra has emerged as the strongest rebel force around Syria's second city. It has been seizing bases from rebel groups backed by the US.
Earlier on Thursday, fierce clashes took place in Aleppo near the air force facility attacked by al-Nusra rebels on Wednesday.
Government forces reportedly launched an assault on rebel positions in the west of the city.
Wednesday's attack began with the detonation of a large quantity of explosives in a tunnel under the building.
Al-Nusra fighters and other hard-line rebel groups then launched a ground assault but were repelled by government forces.
Twenty soldiers and militiamen and 14 rebels were said to have been killed.
Recent reports have suggested that al-Nusra is considering severing ties with al-Qaeda to try to secure arms and finance from wealthy Gulf states including Qatar.
Correspondents says those states, like the West, are looking for allies in the fight against Islamic State as well as against President Assad's forces.
Mr de Mistura told the BBC's Lyse Doucet that he was willing to talk to everyone in an effort to save lives.
However sources close to the rebels in Aleppo say that his peace initiative is coming to a dead end because it does not address even the minimum of rebel demands.
Mr de Mistura said there were no talks now with al-Nusra but he hoped they would listen to his appeal, and there was a possibility he would talk to them too.