Egyptian boy dies after 'severe beating' at Cairo school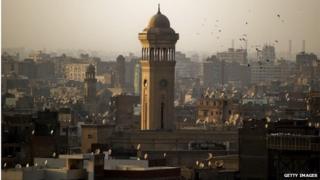 A Cairo schoolboy has died after being severely beaten by his teacher, Egypt's education ministry has said.
The 12-year-old died on Sunday "after being beaten by a teacher the previous day", a ministry statement said.
It said an "urgent inquiry" had been launched into the circumstances of the boy's death and the teacher had been suspended by the school.
Local reports, which named the boy as Islam Sharif, said he was beaten for not doing his homework.
He had head injuries and suffered a brain haemorrhage, forensics department chief Hisham Abdel Hamid told the AFP news agency.
The teacher said he had "no intention to kill him but the beating was part of discipline", state-run newspaper Al-Ahram Al-Masa'i reported.
In December last year, Egypt's National Council for Childhood and Motherhood said attacks on children had increased by 55% between January and October compared with the average over the previous three years.
It said 50% of cases of violence against children were registered in schools.
In September, the director of a Cairo orphanage was sentenced to three years in jail for assaulting minors.