Iraqi Kurdish Peshmerga target Islamic State in Kirkuk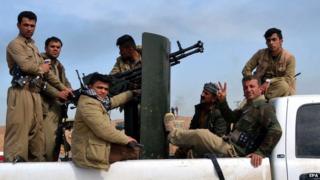 Iraqi Kurdish Peshmerga forces, backed by US air strikes, have launched an offensive against Islamic State (IS) militants in oil-rich Kirkuk province.
The Peshmerga reportedly began advancing along a frontline south-west of the provincial capital on Monday.
Their hold over Kirkuk - consolidated when Iraq's army fled an IS advance last summer - has come under fresh attack from IS this year.
IS has also sent fighters to repel an Iraqi assault on the city of Tikrit.
Iraqi troops and Shia militias are attempting to drive IS jihadists from Tikrit, the Sunni Arab hometown of former dictator Saddam Hussein.
The BBC has learnt that militants from Mosul, the largest city under IS control in Iraq, have been diverted to fend off the assault on Tikrit.
Military officials from Iran, whose Shia government has backed the Iraqi militias, are also taking part in the Tikrit operation.
The Shia-dominated nature of the force has prompted concerns that Sunni Arabs in the Tikrit area could face revenge attacks during the advance.
Further north, the Peshmerga began shelling along the frontline with IS early on Monday, according to Reuters news agency.
The US had earlier carried out air strikes on IS positions in the area.
Earlier this year, the militants attacked Kurdish outposts outside the provincial capital, threatening to over-run the city.
Kirkuk and Tikrit are seen as the militants' major strongholds east of the Tigris river.
Carpet-bombing 'not the answer'
As the battles continued, Iraqi Defence Minister Khalid al-Obeidi said his country was comfortable receiving military aid from Iran as well as from the US.
"We are in dire need because we are at war," he said during a visit to Iraq by the top US military commander, Gen Martin Dempsey. "I think the situation is balanced."
Gen Dempsey meanwhile appealed for "strategic patience" in the campaign against IS, stressing that "underlying issues" - such as strengthening the Iraqi army and reducing Sunni Arab alienation - had yet to be resolved.
"Carpet-bombing through Iraq is not the answer," he said.
The US began air strikes against IS after the jihadist militants seized a broad belt of territory across Syria and Iraq last year.