Deadly bomb attacks hit Egypt's Sinai peninsula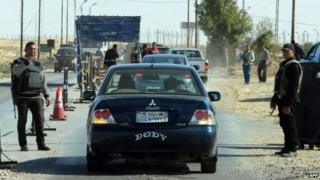 Bomb attacks targeting the police and army in Egypt's restive Sinai peninsula have killed two people and wounded more than 30, officials say.
A suicide bomber targeted a police compound in the city of El-Arish, leaving a civilian driver dead.
A roadside bomb later exploded beside an armoured vehicle, killing a soldier.
Sinai Province, a jihadist group affiliated to Islamic State, claimed it was behind the first attack, the al-Yawm al-Sabaa newspaper reported.
Militants based in the Sinai have killed hundreds of soldiers and police since the military overthrew Islamist President Mohammed Morsi in 2013.
'Shattered glass'
In the first attack, the suicide bomber drove a water tanker filled with explosives into the gate at the rear entrance to the police compound in El-Arish shortly after 06:00 (04:00 GMT), security officials said.
As the vehicle approached, police fired on it, detonating the explosives inside. The blast killed the bomber and a civilian worker at a nearby electricity company who had been driving by the compound.
Interior ministry spokesman Hani Abdul Latif said the death toll could have been much higher had the bomber been able to enter the barracks.
"The security forces dealt with the vehicle near the checkpoint of the base, which saved a lot of lives," he told the AFP news agency. "The wounded policemen suffered only minor injuries from shattered glass."
Shortly after the attack, an army officer was killed and three soldiers were wounded when a roadside bomb exploded beside their armoured vehicle a few kilometres away.
Meanwhile, two suspected militants died when a bomb they were transporting on a motorbike exploded in Fayoum, a town south-west of Cairo, security officials told the AP news agency. One of the men was wanted for a previous attack on a police station in Fayoum, they added.
Crackdown
Sinai Province was known as Ansar Beit al-Maqdis until it pledged allegiance to Islamic State leader Abu Bakr al-Baghdadi in November. It has claimed responsibility for most of the major attacks in Sinai, including a series of strikes that left at least 30 people dead on 29 January.
However, the official Twitter account for the group has not made any reference to Tuesday's attacks.
The government has launched a major military operation in the peninsula, declared a state of emergency, and imposed a night-time curfew in an attempt to halt the attacks.
Houses close to the border with Gaza have also been demolished to prevent what the military says is the smuggling of weapons and infiltration of militants from the Palestinian territory.
On Sunday, the military said that troops and helicopter gunships had killed 70 suspected militants in northern Sinai in the first week of March. Another 23 people were arrested.
The latest violence comes ahead of a major conference at the Red Sea resort of Sharm el-Sheikh, in southern Sinai, aimed at attracting foreign investment to the region.