Israel election: Who are the key candidates?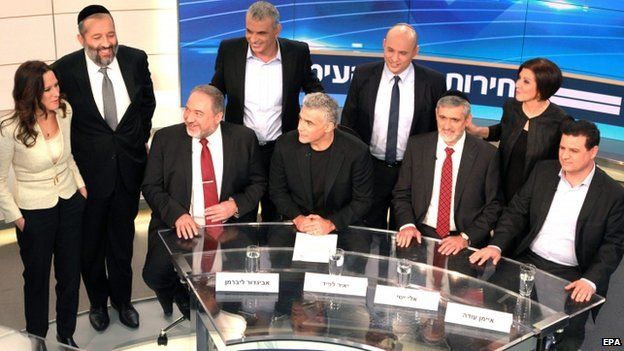 Israelis vote in the second snap election in two years on 17 March, and polls indicate that right-wing Prime Minister Benjamin Netanyahu's Likud party is facing a serious challenge from the centre-left Zionist Union.
But Israel's proportional representation electoral system means that several other parties will enter the Knesset parliament, and the larger of them will be vital in deciding who forms the next government.
Benjamin Netanyahu is a veteran of Israeli politics who has led Likud twice - in 1993-99, and since 2005.
He has been prime minister at the head of a series of coalitions of various colours since 2009, having served a previous term in 1996-99, and has also held several other senior ministerial posts.
He has a reputation for negotiating the volatile party system with skill, but his best efforts failed to maintain a stable parliamentary majority in the Knesset elected in 2013.
His broad coalition collapsed in late 2014, prompting the March elections, and for the first time in years he faces a real danger of losing office to an alliance of centre-left parties.
Born in 1949 into a prominent right-wing political family, Mr Netanyahu spent part of his early life in the United States.
That is where he acquired the fluent English that made him a leading international spokesman for Israel in the 1980s, culminating in his appointment as ambassador to Washington.
"Bibi", as he is known, has a strong following in Likud, based on his impressive electoral record and his hawkish stance on Iran and the question of a settlement with the Palestinians.
But these qualities, combined with his forceful personality, nationalist rhetoric and association with economic liberalism, also make him a divisive figure little liked on the left.
Just as Mr Netanyahu is a product of a conservative political family, so is Yitzhak Herzog a scion of a centre-left Labour Party dynasty.
His father Chaim was president of Israel for 10 years, and his uncle Abba Eban was the country's high-profile foreign minister in the 1960s and early 1970s.
He won the Labour Party leadership election in 2013, and is currently leader of the opposition in parliament and co-leader of the centre-left Zionist Union electoral alliance.
Born in 1960 and a lawyer by profession, Mr Herzog served in various middle-ranking ministerial positions between 2005 and 2011, when Labour left the Likud-led coalition.
"Bougie", as Mr Herzog is known, has continued Labour's traditional opposition to Likud's economic polices, accusing the government of depressing Israeli living standards, but has also campaigned aggressively against Mr Netanyahu's foreign policy and alleged neglect of the Palestinian issue.
He has highlighted the fact that he was a major in an elite military intelligence unit after Mr Netanyahu - a former special forces officer - accused him of being "soft" on security.
The Zionist Union - whose name was chosen to reinforce the alliance's nationalist credentials - has been running neck-and-neck with or slightly ahead of Likud in the most recent opinion polls.
Mr Herzog's co-leader in the Zionist Union is Tziporah "Tzipi" Livni.
Like Messrs Netanyahu and Herzog, she comes from a prominent political family - her father was a leading figure in the ultra-nationalist Irgun armed group during British rule before becoming a more moderate Likud member of the Knesset.
Ms Livni, who was born in 1958, followed in his footsteps, moving steadily from the 'dovish' wing of Likud to her current position as leader of the liberal Hatnua party.
She supported Prime Minister Ariel Sharon's policy of withdrawal from Gaza in 2005, following him out of Likud into the centrist Kadima party, serving as foreign minister before becoming party leader ahead of the 2009 election.
Although Kadima won the most seats, socially-liberal Ms Livni refused to accept the coalition terms demanded by Jewish religious parties and went into opposition.
She later lost the party leadership, and formed Hatnua in protest at what she saw as Kadima's move to the right.
She is a prominent advocate of seeking more cooperation with the Palestinian Authority and Israel's Arab community, and lost her job as Mr Netanyahu's justice minister in 2014 over a range of policy disagreements.
She is one of the few mainstream Israeli leaders to speak out openly in favour of gay rights, and is well-regarded in European, US and, albeit mutedly, many Arab diplomatic circles for her record of pragmatism as foreign minister.
Charismatic journalist and broadcaster Yair Lapid also has politics in the family, as his father and fellow-newsman Yosef "Tommy" Lapid led the firmly secular and relatively hawkish Shinui party from nowhere into government, then back into oblivion in the mid-2000s.
Yair Lapid, born in 1963, formed a similar party - Yesh Atid - from scratch in 2012, and scored a striking success in the following year's election with 19 seats and the post of finance minister in Benjamin Netanyahu's government.
Tense relations with his boss and poor ratings for his performance as minister plagued his time in office, which ended when Mr Netanyahu sacked him along with Ms Livni in 2014.
But a vigorous election campaign, in which he has accused the prime minister of "leading Israel into unnecessary elections", looks like ensuring that Yesh Atid will have a smaller but still significant number of seats in the next Knesset and make life difficult for Mr Netanyahu.
Moshe Kahlon, a former Likud welfare and communications minister under Benjamin Netanyahu, returned to politics as head of the new Kulanu party with a manifesto based on promoting social equality.
Born in 1960 to Libyan immigrants, he won considerable popularity in office for freeing up the mobile phone market and championing cheap electricity, and stood down from Likud ahead of the 2013 elections.
Founded at the end of 2014, Kulanu focuses on depressed living standards and has reaped impressive poll ratings.
But it remains an unpredictable player in terms of coalition-forming, as it seeks to appeal to overlapping and possibly contradictory constituencies in the socially-liberal and populist camps.
The real surprise of the election could be the rise of the predominantly Arab Joint List to third place in terms of Knesset representation.
List leader Ayman Odeh is also head of Hadash, a radical socialist party, and brought together three other Arab nationalist and Islamist parties in a marriage of convenience to boost Arab turnout and block Mr Netanyahu's return to office.
Born in 1974, the lawyer from Haifa raised his profile dramatically with an impressive performance in a prime-time TV debate in February.
The Joint List would not take posts in a government, out of consideration for Palestinians living under Israeli occupation, but would be likely to support a Zionist-Union government.
The religious party Jewish Home looks set to keep something like its 12 Knesset seats.
Its leader, Naftali Bennett, is a charismatic and eloquent software entrepreneur who balances economic liberalism with a pro-settler stance, and has largely pushed aside the more secular Yisrael Beitenu of Foreign Minister Avigdor Lieberman.
Born in 1972 to US immigrants, Mr Bennett is the outgoing minister of the economy.
Like many politicians competing for the same right-wing constituency as Benjamin Netanyahu, Mr Bennett objects to the prime minister's political pragmatism and even accuses him of planning a coalition with the Zionist Union.
But in the next Knesset he, like Mr Lieberman, would almost certainly join any Likud-led government.
BBC Monitoring reports and analyses news from TV, radio, web and print media around the world. You can follow BBC Monitoring on Twitter and Facebook.