Israel election: An end or new era for Netanyahu?
By Kevin Connolly
BBC Middle East correspondent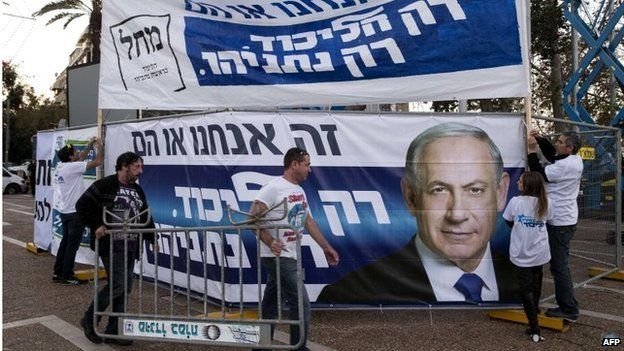 The coming week promises to be one of the most eventful and most unpredictable in the long and bumpy political life of Benjamin Netanyahu.
The man revered by his supporters as a global statesman and sniffily dismissed by one Israeli newspaper as "former furniture salesman" will know by the end of it if he is to remain prime minister of Israel.
He triggered Tuesday's election - the second in two years - after he decided that his right-of-centre coalition government was not working.
The plan was for a swift return to office at the head of a reshuffled coalition.
The final polls before voting day suggest that things may not be going to plan.
They give the Zionist Union - an alliance of Yitzhak Herzog's Labour Party and the Hatnuah movement headed by former Foreign Minister Tzipi Livni - a clear lead over Mr Netanyahu's Likud.
That does not necessarily spell disaster for Mr Netanyahu. He could finish second and still be invited to form the next government if Israel's President Reuven Rivlin decides after consulting other party leaders that he is best-placed to do so.
Likud itself may be shrinking but there are several parties in this election, like Israel Beitenu, Habayit Yehudi and Kulanu, which are its natural ideological bedfellows.
The leaders of all three (Avigdor Lieberman, Naftali Bennett and Moshe Kahlon) all emerged from Mr Netanyahu's political orbit and all have sat in Likud-run cabinets in the past.
So the Right could remain in power even if Likud polls badly - but that would represent a real humiliation for Mr Netanyahu.
Worse still perhaps would be an outcome so close that President Rivlin decides that the right and left should come together in some sort of government of national unity.
That would involve Mr Netanyahu and Mr Herzog rotating the job of prime minister - a bitter prospect for the Likud leader, who talks of government by the Left as a kind of doom-laden apocalyptic nightmare.
The strange thing is that the prospect of defeat has crept up on Mr Netanyahu.
It is hard to pinpoint when the momentum began to shift - there was certainly no game-changing individual moment of drama. There was no head-to-head debate, for example.
The closest we came was a rather awkward broadcast in which Israeli Channel 2 was switching directly from an interview with Yitzhak Herzog who was in the studio to a second, separate appearance by Mr Netanyahu, who was joining by video-link.
For a few minutes, a giant Netanyahu loomed over a life-sized Herzog as the presenter encouraged the prime minister to ask his opponent a question.
It may have irritated Mr Herzog and amused the audience but it fell some way short of the kind of exchange that might have helped undecided voters to make up their minds.
Israeli elections are long - there is a statutory 90 days of campaigning before the vote - and this one has been a little slow to come to the boil.
But there is no doubt that if you are a Likud cabinet minister it is getting pretty interesting now.
Mr Netanyahu has been criticised for not wanting to mix it with his rivals in public debate and not campaigning hard enough on cost-of-living issues.
But because his image features so heavily in his party's poster and video effort, it has still felt like a presidential campaign.
The opposition leader Yitzhak Herzog said: "This is a referendum on many issues that bother Israeli public, we're a very vibrant democracy and people sometimes forget that. But yes, it's a referendum whether we will continue having Netanyahu or change, which I represent."
Anyone writing about an election the day before polling is bound to be a little cautious but it really is true that no-one should write Mr Netanyahu off.
He is a known quantity - only the founder of the state, David Ben-Gurion, has served longer as prime minister. And he is seen as being strong on his signature national security issues like the Iranian nuclear threat.
His intelligence minister, Yuval Steinitz, told me: "Netanyahu is an extremely capable, experienced and competent leader... If he had to choose between being loved but not appreciated or being appreciated but not so much loved he would prefer to be appreciated for his performances and capabilities."
The battle of the internet videos, which have turned out to be an important tool in this campaign, has been too close to call.
Mr Herzog's most memorable effort had him lip-synching to a manly baritone voice, pushing back against voters worried by his natural rather reedy delivery. The subtext - look beyond the superficial.
Mr Netanyahu ("Bibi" to Israelis) starred in an even more peculiar effort, turning up on the doorstep of a couple waiting for a baby-sitter.
Twinkling with avuncular reassurance he tells them he is the "Bibi-sitter". The message - here is a man to be trusted with Israel's future.
But other video visions of Mr Netanyahu are available too.
To the producers of the waspish satirical TV show Wonderful Country he is a rather slick song and dance man.
In one of their most memorable programmes the actor portraying him (complete with luxuriant comb-over) mugged his way through a big production number in which giant cartoon pistachio ice-creams appeared on screen dancing along.
That was a not-very-subtle reference to persistent stories that the Netanyahus have something of a taste for high-living at the taxpayer's expense.
The bill for pistachio ice-cream at an official residence was much-discussed for a while.
To his supporters that was the liberal media again having a go at a man who has the courage and determination to protect his country's interests on the global stage whatever the wider world might think.
The voters will choose between those different interpretations this week.
Mr Netanyahu's fate hangs in the balance - but only a fool would write him off just yet.
This long election campaign got more interesting as polling approached - it may get more interesting still after all the votes are counted.