Islamic State: Syria accused of bombing civilians in Raqqa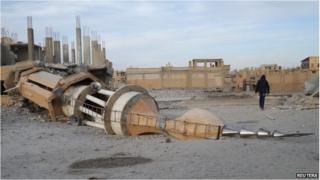 There is evidence the Syrian government has bombed civilians in the city of Raqqa, stronghold of Islamic State jihadists, Amnesty International says.
The group says that some of the attacks may amount to war crimes.
The Damascus government says it is attacking IS, but Amnesty said government aircraft had targeted areas densely populated with civilians.
Targets have included a mosque, a school and a market, with Amnesty noting a spike in November last year.
The government, it said, appeared "indifferent" to the carnage caused.
Last year was the deadliest in four years of conflict across Syria leaving more than 70,000 killed - most of whom were civilians.
Government attacks and barrel bombs continue to cause the highest number of causalities in the country.
Both IS and the Syrian government have committed crimes against civilians in Syria, according to the report.
Amnesty International said a referral of the situation to the International Criminal Court could send a strong message to warring parties that they need to be brought to justice.