Egypt policeman to stand trial over protester death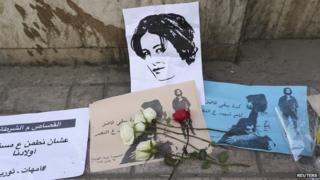 The state prosecutor in Egypt has said a policeman must stand trial on charges of killing an activist at a protest in Cairo in January.
Shaimaa al-Sabbagh died taking part in a peaceful demonstration marking the fourth anniversary of the uprising that toppled Hosni Mubarak.
Her final moments were caught on video and went viral online.
The incident caused an outcry, leading President Abdel Fattah el-Sisi to demand an investigation.
In a separate development, 16 people, including members of the banned Muslim Brotherhood, have been charged in connection with the deaths of at least 19 football fans who died in clashes with police at a stadium in Cairo last month.
'My own daughter'
On January 24, Ms Sabbagh and her friends were walking to Cairo's Tahrir Square to lay a wreath in memory of the 2011 revolution when masked police fired on the group with tear gas and birdshot.
She was filmed collapsing to the ground and being cradled by a friend.
The death of Ms Sabbagh - a political liberal, a published poet and mother of a five-year-old boy - shocked Egyptian society.
The authorities initially tried to deflect blame from the police. But in a television address, President Sisi promised a full investigation, referring to Ms Sabbagh as "my own daughter".
State prosecutor Hisham Barakat has now referred a police officer to a criminal trial for the involuntary manslaughter of Ms Sabbagh and the deliberate wounding of other protesters. The officer has not been named and no trial date has yet been set.
Egypt's policing of protests has been a recurring source of criticism, with 1,150 protesters killed in a crackdown in July and August 2013 alone, according to Human Rights Watch.
Interior Minister Mohammed Ibrahim was in charge of the security forces at the time.
On 5 March, amid the controversy following Ms Sabbagh's death, he was removed from office.
In the case of the football deaths, prosecutors accused the Brotherhood supporters and members of a hardcore fan group of trying to create instability ahead of a key investment conference.
The fans blamed police for forcing them through a narrow, fenced-in passageway.