Syria conflict: Government accused of chlorine attack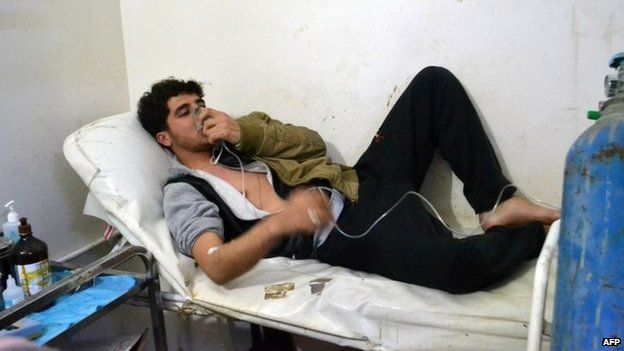 Syrian activists have accused government forces of using chlorine in an attack in the north-western province of Idlib late on Monday.
Two groups reported that three children were among six people killed when aircraft dropped barrel bombs filled with the toxic chemical on Sarmin.
Dozens of other residents of the town suffered from breathing difficulties following the attack, they said.
The Syrian military has denied the claim, describing it as propaganda.
In January, international investigators concluded that chlorine gas was used in air raids on three villages that were blamed on the government.
Separately on Tuesday, Syria's state media said government air defences had shot down a "hostile US surveillance aircraft in northern Latakia". It gave no further details, but other reports suggested a drone.
An opposition official in the Sarmin area told the Associated Press that chlorine-filled barrel bombs were dropped on two locations by government helicopters on Monday night. The first targeted rebel fighters and injured 20 people, while the second hit a residential area, he said.
A witness at a local medical clinic told the Reuters news agency: "At around 20:45 we heard the noise of helicopters. We didn't hear an explosion. Right after that we started receiving cases, we got around 70.
"Symptoms include eye and nose irritation and dyspnoea (impaired breathing). Most probably it's chlorine gas."
The Local Co-ordination Committees, an opposition activist network, and the Syrian Observatory for Human Rights, a UK-based monitoring group, reported that a family of six - a man, his mother, wife and their three children - died as a result of exposure to chlorine gas.
The Syrian Civil Defence, an organisation that includes more than 2,000 volunteer search and rescue workers known as the "White Helmets", said there were more than 100 casualties and posted several videos online.
One showed three apparently unconscious children and a woman at a medical centre.
"One of the infants, only a few months old," the cameraman says as he films a baby on a stretcher with liquid around its mouth before two more infants with limp bodies are brought in.
The video could not be independently verified, but corresponded to other reports.
A Syrian military source told Reuters that the reports were propaganda.
"We confirm that we would not use this type of weapon, and we don't need to use it," the source said, echoing comments made by President Bashar al-Assad in a BBC interview last month.
But the president of the Western-backed opposition National Coalition, Khaled Khoja, blamed Mr Assad for the Sarmin attack, writing on Twitter: "The psychopathic dictator continues to kill by chemicals and challenges the international laws."
Chlorine is a common industrial chemical, but its use as weapons is banned by the Chemical Weapons Convention (CWC).
Syria signed the treaty after the nerve agent sarin was used in an August 2013 attack on several suburbs of Damascus that killed hundreds of people. Western powers said only the government could have carried out the attack, but it blamed the rebels.
Earlier this month, the UN Security Council approved a resolution that condemned the use of toxic chemicals such as chlorine in Syria, and threatened military action in case of further violations.
In January, investigators from the Organisation for the Prohibition of Chemical Weapons (OPCW) concluded "with a high degree of confidence" that chlorine gas was used as a weapon in barrel bomb attacks on three villages in Syria last year, killing 13 people.
Their report did not apportion blame, but witnesses reported hearing helicopters at the time of the attacks and only government forces are believed to operate such aircraft in the country.