Israel election: Dramatic turnaround for Netanyahu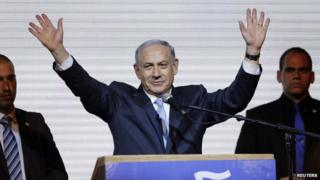 In the end Israeli opinion polls told the wrong story, yet again.
Benjamin Netanyahu scored a much bigger victory than the exit polls had suggested.
When the polls closed his main opponent Yitzhak Herzog was able to say it was a tie, the best result for the left in more than 20 years.
But overnight, as the real results emerged, Mr Netanyahu and his governing Likud party emerged as clear winners.
The polls suggested Mr Herzog was close to an outright victory. He broke through by not letting up on social and economic issues.
It would have been a sensational result; the Israeli left had been in the doldrums for a generation; Mr Netanyahu was a clear favourite when he called early elections in December last year. Even in defeat, Mr Herzog has now established himself as the undisputed leader of his party.
Warnings and promises
But Benjamin Netanyahu has dominated Israeli politics for most of the last 20 years.
He has been written off many times since his first term as prime minister ended in a humiliating election defeat in 1999.
In the last few days of the campaign he demonstrated yet again why he is such a formidable politician.
The prime minister narrowed the gap with Mr Herzog's Zionist Union, and then overhauled it, by turning sharply towards the ultra-nationalist Israeli right.
He issued a series of grim warnings about the consequences for Israel if he lost; Arabs with Israeli citizenship were voting, so his people needed to turn out.
Mr Netanyahu made a series of promises that would worsen Israel's relations with the United States and Europe if he stays on as prime minister.
He promised thousands of new homes for settlers in the occupied territories. And he said that he would not allow the Palestinians to have a state.
Peace through the so-called "two-state" solution is official policy for the US and the European Union. Relations with the White House during a fourth Netanyahu term as prime minister are likely to be even more glacial than they are already.
In the end Benjamin Netanyahu's experience in political persuasion and infighting, and his support among nationalists gave him the edge when it was needed.
But Mr Herzog demonstrated talents his opponents did not know he had during the election, and he has earned new respect.
---
The main players
Benjamin Netanyahu: Victory for his Likud party could mean a fourth term for the veteran of Israeli politics. His hawkish stance on the Palestinians and Iran have made him popular with the right but a divisive figure.
Yitzhak Herzog: The co-leader of the centre-left Zionist Union electoral alliance, Mr Herzog has accused Likud of depressing Israeli living standards and campaigned against Mr Netanyahu's foreign policy. He has tried to counter Mr Netanyahu's accusations he is "soft" by pointing to his special forces background.
Tzipi Livni: Mr Herzog's co-leader in the Zionist Union, Ms Livni is a prominent advocate of seeking more co-operation with the Palestinian Authority.
Moshe Kahlon: A former Likud welfare and communications minister under Benjamin Netanyahu, Mr Kahlon's centre-right Kulanu party could play kingmaker in a coalition.
---