Mid-East media downbeat on Likud win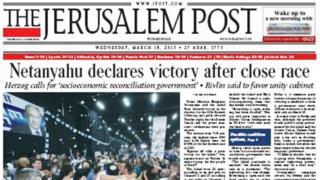 Israeli papers supportive of Prime Minister Benjamin praise him and his Likud party for securing a victory against all odds, while other commentators look ahead at what kind of coalition the country now needs.
Palestinian and Arab papers, however, are downbeat, with some of them predicting little change ''apart from additional arrogance''.
An Iranian paper says Mr Netanyahu's victory represents the ''worst possible situation''.
Al-Quds, the privately-owned Palestinian newspaper, does not expect the elections to influence Israeli policies on peace, and ''consequently, the Palestinian people no longer give them any interest and are not optimistic about them''.
'Dream coalition'
In Israel, pro-Netanyahu dailies adopt a celebratory tone, with Matti Tuchfeld in the Israeli Yisrael Hayom exclaiming that "Netanyahu could not have expected a sweeter, more decisive victory. This is a victory against all odds", he writes, adding that now the Israeli leader would be able to ''form a dream coalition".
The Israeli paper Ha'aretz explains that Mr Netanyahu will need the support of the centrist Kulanu party, led by communications minister Moshe Kahlon, who won 10 seats.
"This result puts Moshe Kahlon in a position to determine the face of the next Israeli government," Ha'aretz says.
The English-language Jerusalem Post editorial proposes a "government of national unity", including both Likud and Zionist Union as the best way to heal divisions in Israeli society "and move forward".
Haim Shain in the free, pro-Netanyahu Yisrael Hayom prefers "a narrow consolidated, nationalist, responsible, government" as "the only one that can implement the social values that now top the national agenda".
Boaz Bismuth in Yisrael Hayom jeers at US President Barack Obama, saying: "We forced you to continue to work with Bibi (Netanyahu) who luckily for us does not see the world as you see it".
'Additional arrogance'
The Gaza-based, Hamas-run Filastin newspaper says Palestinians can expect the poll to lead to ''additional arrogance'' on the part of Israel and a greater prominence of hardline religious parties wanting to get rid of Arabs.
Peace will be the big loser, predicts Al-Hayat al-Jadidah, the Palestinian Authority-owned newspaper.
The election result is the main story in pan-Arab TVs, with one of them, Al-Arabiya TV, quoting Saeb Erekat, chief Palestinian negotiator, as saying Palestinians remained determined to fight their cause on the international diplomatic front.
Iranian state TV highlights the fact that a bloc of Arab parties came third in the race, and predicts that it will play a role in government.
Saleh Zamani, writing in the conservative Iranian paper Khorasan, says that of the possible scenarios ''retaining the current government is the worst possible situation... which will have no other consequence but more inflammation and radicalization of the Zionist regime's domestic and foreign ties".
The tone of Arabic papers is pessimistic, with the Lebanese pan-Arab leftist Al-Safir daily declaring: ''Racism wins''.
However, some papers such as Jordan's Al-Dustur daily praise the Arab bloc's results on the Israeli election as an "achievement".
BBC Monitoring reports and analyses news from TV, radio, web and print media around the world. You can follow BBC Monitoring on Twitter and Facebook.