Israel election: Netanyahu 'to form coalition in weeks'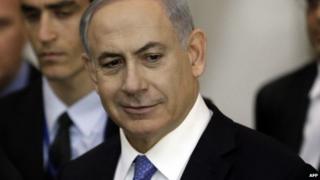 Israel's Benjamin Netanyahu has said he hopes to form a new governing coalition within two or three weeks after securing a surprise win in elections.
His Likud party comfortably beat the centre-left Zionist Union, despite exit polls forecasting a dead heat.
Mr Netanyahu has not yet been asked to form a government, but his win makes it likely he will be given first opportunity.
He said he would not allow the creation of a Palestinian state if re-elected.
The day after his dramatic victory, Mr Netanyahu said prayers at the Western Wall in Jerusalem, one of Judaism's holiest sites.
"I appreciate the decision by Israel's citizens to elect me and my friends, against all odds and in the face of powerful forces and I will do everything I can to care for the security and welfare of all Israelis," he said.
---
Analysis: Mark Lowen, BBC News, Jerusalem
His victory defied the odds, but now Benjamin Netanyahu is confident he can build a coalition.
It will be staunchly nationalist, inevitably including far right and ultra-Orthodox parties but may also involve centrists who'll try to tame his hardline stance on the Palestinian issue.
Mr Netanyahu recently vowed to step up building in settlements and effectively ruled out a Palestinian state.
An official from the Palestine Liberation Organisation said Israel had chosen "the path of racism and occupation".
There will be concern in the West that peace talks are unlikely to be reignited unless the new coalition tempers its views.
---
The Palestinian President, Mahmoud Abbas, said he would work with any Israeli government that accepts the two-state solution, without which, he said, peace negotiations stood "no chance".
Sami Abu Zuhri, a spokesman for Hamas, which controls the Gaza strip, said it was irrelevant who won the Israeli elections.
"We don't differentiate between Israeli parties because they are bound to deny our people's rights and continue the aggression on us," he said.
The EU and UN have both said they expect Israel to continue with the Middle East peace process, despite Mr Netanyahu ruling out a Palestinian state during a fourth term.
With almost all the votes counted, the latest tally gives Likud 30 seats in the 120-seat parliament, the Knesset, with Zionist Union on 24 seats.
Mr Netanyahu "plans to immediately begin forming a government in order to complete the task within two to three weeks," a statement from Likud said.
It said he had already spoken to parties he saw as possible coalition partners, including right-wing and ultra-Orthodox parties and centrist Kulanu, which won 10 seats.
Kulanu's support is likely to be essential, with its leader Moshe Kahlon offered the post of finance minister by Mr Netanyahu ahead of the vote.
Israel election in numbers
71.8%
voter turnout, the highest in 15 years
10 the smallest number of parties to enter parliament since 1992

28 a record number of female MPs

17 the number of Arab MPs, five more than in 2013
Reuters
The Joint Arab List, an alliance of Israeli Arab-dominated parties that united for the first time, came third with 14 seats.
Israel's form of proportional representation always produces smaller parties and coalition government. None has ever won an outright majority.
Did you vote in the election? You can share your views by emailing haveyoursay@bbc.co.uk. If you are available to speak to a BBC journalist, please include a contact telephone number.