Yemen could become 'protracted conflict' envoy warns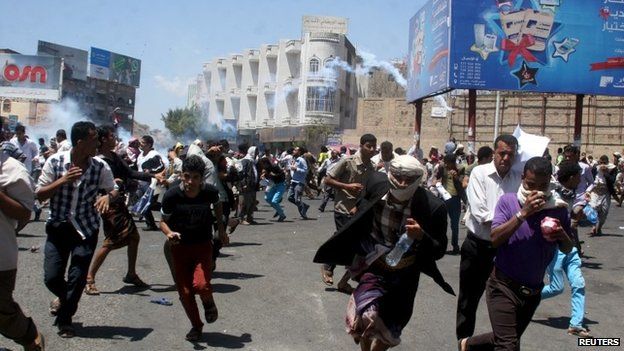 The conflict in Yemen could become "protracted in the vein of an Iraq, Syria, Libya combined scenario'' the UN's special envoy has warned.
Jamal Benomar was speaking as the Security Council met in New York to express support for ousted President Abdrabbuh Mansour Hadi.
Mr Hadi fled the capital Sanaa in February as Houthi rebels from the north tightened their grip on the city.
The rebels, who are Shia, have now taken Yemen's third-largest city, Taiz.
In a video link from Qatar, Mr Benomar called for "peaceful dialogue" and warned that Yemen was on the "edge of civil war".
The participation of Houthi rebels in talks was "crucial" he said.
Shortly afterwards, the 15-member Security Council issued a statement giving unanimous support to President Hadi, who has sought refuge in the southern port city of Aden.
"The Security Council reaffirms its strong commitment to the unity, sovereignty, independence and territorial integrity of Yemen," it said.
In Taiz, residents took to the streets in protest at the Houthi occupation. One protester was killed as the rebels fired on them.
Instability has been growing in Yemen, where al-Qaeda and Islamic State sympathisers also pose a threat.
On Saturday, the US said it was withdrawing its troops from the country because of the worsening security situation.
The rebels declared a new government in February and said a transitional presidential council would replace President Hadi.
However, the Houthis are from the north, and their declaration has not been recognised by southern leaders.
On Sunday, Houthi leader Abdel-Malek al-Houthi vowed to pursue Islamists militants from al-Qaeda in the Arabian Peninsula and IS.
Both al-Qaeda and IS are Sunni groups and consider the Shia Muslim Houthis to be heretics.
IS said it was behind the suicide bombings of two Houthi mosques on Friday in Sanaa, which killed 137 worshippers.
Mr Houthi also accused Qatar and Saudi Arabia of "funding all conspiracies in the region" and accused Mr Hadi of "being a puppet in the hands of other actors to implement their agendas in Yemen".
Are you in Yemen? Have you witnessed events? You can share your experiences by emailing haveyoursay@bbc.co.uk.
If you would be happy to speak further to a BBC journalist, please include a contact telephone number.