Iranian guards killed on Pakistan border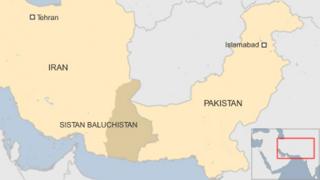 Eight Iranian border guards have been killed in a clash with gunmen near Pakistan, Iranian media say.
They were shot dead after the attackers crossed into Iran's Sistan Baluchistan province, according to reports.
The gunmen then fled back across the border, Iranian official said. A Sunni militant group said it carried out the attack, Iranian media reported.
Sistan Baluchistan has seen frequent clashes between Iranian forces and drug smugglers and Sunni rebels.
The deputy governor of the province, Ali Asghar Mirshekari, said "armed terrorists" had infiltrated Iran and killed the border guards on Monday, Iran's official Irna news agency reported.
Mr Mirshekari said they had used rocket-propelled grenades as well as guns.
He called on Pakistan to arrest the attackers and hand them over.
Militant group Jaish Al-Adl (Army of Justice) said it carried out the attack, according to Iranian media.
It is the deadliest incident in the impoverished province since October 2013, when 14 border guards were killed in an attack claimed by Jaish Al-Adl.