Islamic State conflict: US offers Iraq $200m in aid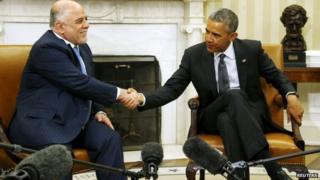 US President Barack Obama has offered Iraqi PM Haider al-Abadi $200m (£135m) in humanitarian aid on his first official visit to Washington.
Mr Abadi had been expected to ask for more arms to fight Islamic State militants but made no request.
The humanitarian aid is to help Iraqis displaced by the militants.
President Obama said Iraqi troops, backed by the US-led coalition, had now recovered about one-quarter of the territory in Iraq seized by the group.
Iraqi forces are getting better equipped and trained since President Abadi was elected to power seven months ago, Mr Obama added.
Mr Abadi said that the US-led air strikes, increased arms and training had helped to push back Islamic State (IS) forces.
But, he added, "we want to see more". The Iraqi leader was expected to seek Mr Obama's help to acquire billions of dollars of advanced US weaponry, including unarmed surveillance drones, attack helicopters and ammunition.
The two leaders also discussed Iran's involvement in battling IS, with President Obama stressing the importance of coordinating activities "through Iraq".
Shia militias believed to be backed by Iran have been playing a major role, but US officials have reportedly demanded their withdrawal from Anbar, Iraq's biggest province, where fierce fighting is currently taking place.
Last week, Mr Abadi launched a campaign to drive IS out of Anbar. The militants responded with a renewed onslaught on the provincial capital, Ramadi.
Mr Abadi's visit to Washington is his first since he took over from Nouri al-Maliki after elections last year.