Syrian dissident Louay Hussein flees to Spain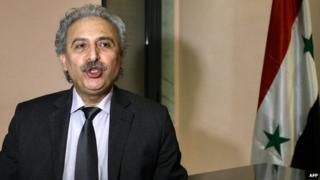 A prominent Syrian political activist has evaded a travel ban and fled to Spain before the end of his trial for "weakening national sentiment".
Louay Hussein, head of the Building the Syrian State (BSS) party, said he had felt that his life was in danger.
The 55-year-old was a leading member of Syria's internal opposition, which is largely tolerated by the government.
But he was detained last year after writing a newspaper article that was critical of President Bashar al-Assad.
In February, he was released on bail and banned from leaving the country.
'Difficult journey'
Mr Hussein arrived in Spain on Sunday after what he called "a difficult journey".
The deputy leader of the BSS, Anas Judeh, said he had flown from Damascus to the north-eastern city of Qamishli before heading to the nearby town of Ras al-Ain and crossing the border with Turkey.
"It's no longer possible to come to an understanding with the regime, which is turning into a militia," Mr Hussein told the AFP news agency.
He will travel to Istanbul in the coming days to meet members of Syria's exiled opposition, including the Western-backed National Coalition.
In a post on Facebook, he wrote that he hoped to "agree on a roadmap to save the country from the regime, the extremist Islamic State group, and the [al-Qaeda-affiliated] al-Nusra Front".
He was put on trial in February on charges of "weakening national sentiment" and "weakening the morale of the nation".
The charges arose from an opinion piece he wrote for the pan-Arab newspaper al-Hayat in June 2014, entitled Syrians Do Not Feel They Need A State.
In the article, Mr Hussein criticised the governments of Mr Assad and his late father, Hafez, arguing that they had "turned state institutions into agencies to oppress citizens". He also warned that a "national identity crisis" meant the Syrian state was in danger of collapsing.
Mr Hussein was detained at the beginning of the uprising against Mr Assad in March 2011, and also spent several years in prison without trial in the 1980s.
In a separate development on Monday, rebels took over a military base in the north-western province of Idlib.
The capture of al-Qarmid camp is the latest success for the rebels in Idlib, where they have now driven government forces out of the provincial capital and main towns.
At the weekend, a rebel alliance calling itself the Army of Victory - which includes jihadists from al-Nusra Front - seized Jisr al-Shughour.
Government forces responded by launching air strikes on the town and other targets in Idlib, killing more than 70 civilians, activists said.