Yemen clashes rage in south as peace talks postponed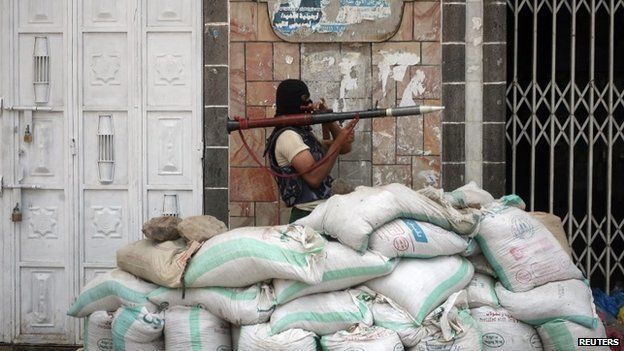 There have been fierce clashes in southern Yemen, reportedly leaving dozens of people dead and wounded.
In the city of Dhalea, militiamen allied to the exiled government have retaken positions from Houthi rebels.
But in Taiz, to the west, the rebels are reported to have pushed back their opponents in heavy street fighting.
Earlier, Yemeni officials said UN-sponsored peace talks that were due to start in Geneva later this week had been postponed indefinitely.
No reason was given, but the government had demanded that the rebels recognise its authority and withdraw from cities they held, before being allowed to participate.
On Monday morning, Dhalea residents told the Reuters news agency that southern militiamen opposed to the rebels had seized the main security headquarters in the city and strategic mountaintop buildings from the Houthis.
Later, heavy fighting was reported at the rebel-held base of the 33rd Armoured Brigade, the AFP news agency said.
Reuters reported that 10 soldiers from army units allied to the rebels had been killed in the fighting, along with three militiamen, while Al-Jazeera TV cited unnamed sources as saying that dozens of people had been killed and wounded.
In Taiz, Yemen's third city, the Houthis reportedly pushed back adversaries with rocket- and tank-fire, as battles that erupted on Sunday continued.
A local official told AFP that at least 30 rebels and allied fighters, as well as five of their opponents, had been killed over the past two days.
Medics and residents said on Sunday that at least 10 civilians had also died.
Rebel positions were also bombarded overnight by aircraft from a Saudi-led coalition that is seeking to restore exiled President Abdrabbuh Mansour Hadi.
Mr Hadi fled the country at the end of March as the Houthis advanced on the second city of Aden, where he had taken refuge the previous month after escaping house arrest in the capital Sanaa.
The UN is trying to broker an "inclusive, negotiated political settlement" to the conflict, which has left almost 2,000 people dead since March.
But its efforts suffered a setback late on Sunday, when Yemeni officials and politicians said they had been notified that the Geneva peace talks would not begin on Thursday as planned.
"The Geneva meeting has been indefinitely postponed because the Houthis did not indicate their commitment to implement the UN Security Council resolution [passed on 14 April]," Sultan al-Atwani, an aide to President Hadi, told Reuters.
"Also, what is happening on ground... makes it difficult to go to Geneva," he added.
The Security Council resolution calls on the rebels to disarm and withdraw from all areas they have seized. It also demands they resume negotiations on the democratic transition begun in 2011 when the former president, Ali Abdullah Saleh, was forced to hand over power following mass protests.
The Houthis are willing to participate in the talks, but they rejected the resolution.