Iraq exhumes 470 IS victims' bodies in Tikrit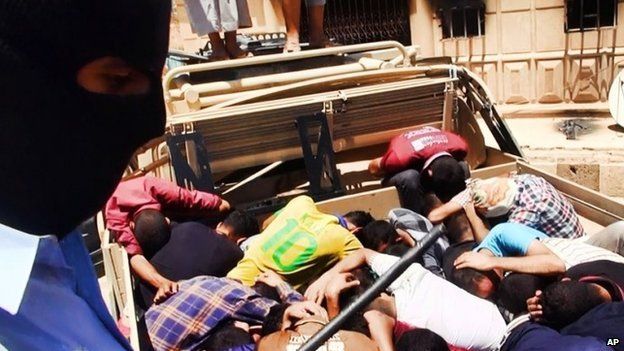 The Iraqi authorities have exhumed the remains of 470 people believed to have been summarily killed by Islamic State (IS) near the city of Tikrit last June.
Health Minister Adila Hammoud said the bodies had been found at several sites.
Most of the victims are believed to have been young Shia soldiers who were based at Camp Speicher when the military base was overrun by IS.
It is estimated that up to 1,700 people died in one of the worst atrocities committed in Iraq in recent times.
Photos and videos published by IS at the time of what is now known as the "Speicher massacre" showed soldiers being lined up and shot at various locations.
Some bodies were pushed into the River Tigris, while others were buried in mass graves that were discovered after government forces recaptured the city in a major offensive two months ago.
Ziad al-Abbas, the chief doctor at Baghdad's main mortuary, was quoted by the AFP news agency as telling a news conference that the 470 bodies so far discovered had been found at four mass graves.
"One of them was bigger than the others and contained 400," he added.
Dr Abbas said forensic examination of the exhumed remains was conducted with foreign assistance, including from the International Committee of the Red Cross.
The first list of the names of those identified is expected to be released next week.