Israeli PM warns Hamas over two Israelis 'held in Gaza'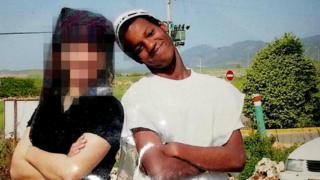 Israel's prime minister says he holds Hamas responsible for the fate of two Israeli citizens believed held in Gaza.
Benjamin Netanyahu said Israel was working to secure their safe return.
Israel said it believes one, an Ethiopian Israeli, was being held by Hamas. An Israeli Arab is also being held in Gaza, defence officials say.
Hamas has not commented on either case. The group held an Israeli soldier for five years before being exchanging him for hundreds of prisoners in 2011.
The Islamist militant group has controlled Gaza since winning elections in 2006. It reinforced its power there in 2007 after ousting its political rivals, Fatah.
Israeli defence officials say Avraham Mangisto, of Ethiopian origin, went into the Palestinian territory of his own accord last September and has been missing since then.
Israel says it has appealed to international and regional bodies to help clarify Mr Mangisto's situation and are demanding his immediate release.
"According to credible intelligence, Mangisto is being held against his will by Hamas," a defence ministry statement said.
"Israel will continue to pursue the release and return of the citizen to Israel," it added.
Israeli President Reuven Rivlin said it was a "painful situation" and that he was in contact with Mr Mangisto's family.
"This is a humanitarian issue, and we expect those holding him to behave accordingly and return him in good health," he said.
Netanyahu appeal
Mr Netanyahu called on the international community to help secure the men's release.
"I expect the international community, which expresses its concern over the humanitarian situation in Gaza, to issue a clear call for these citizens to be released and to see to their return," he said.
The Associated Press quoted an unnamed official as saying it was unclear why Mr Mangisto went into Gaza but that he was believed to be mentally unstable.
Israeli media said the 28-year-old, from Ashkelon, had breached the heavily-guarded security fence between Israel and Gaza.
Local media said the Israeli Arab being held in Gaza was a Bedouin from Israel's southern Negev desert. His name has not been released.
The defence ministry said he had crossed into Gaza several times before.
The two cases were cleared for publication on Thursday after a court lifted a gagging order.
In 2006, Sgt Shalit was captured in a cross-border raid by Hamas, triggering a crisis which was only resolved years later in a controversial exchange for more than 1,000 Palestinian prisoners held by Israel.