Iraq violence: Islamic State 'behind Baghdad attacks'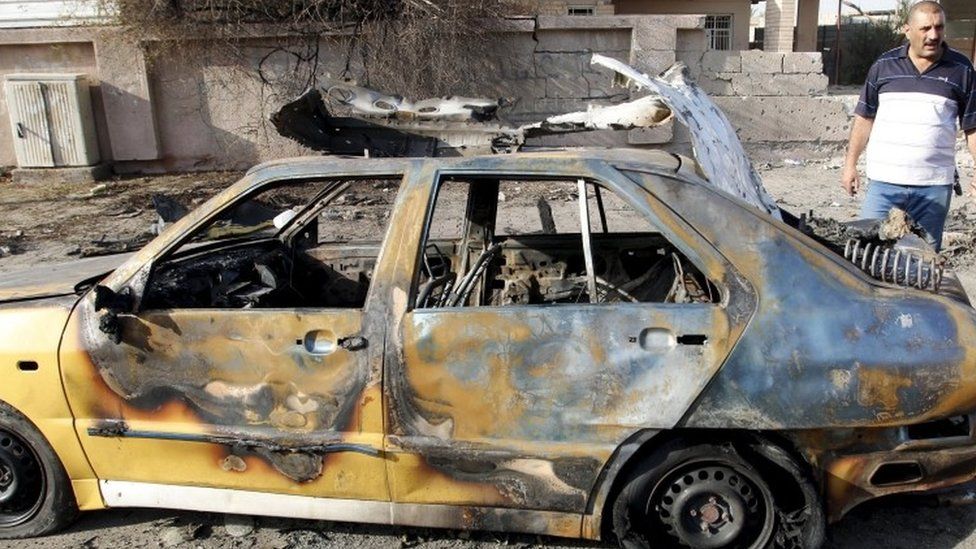 Islamic State (IS) militants have said they were behind a spate of bomb attacks in the Iraqi capital, Baghdad, which killed at least 28 people.
In a statement posted on social media, IS described Sunday night's bombings as the "pounce of the monotheists on the chests of the apostates".
Several of the blasts were carried out by suicide bombers in Shia areas of the capital.
The series of attacks was one of the worst to hit Baghdad in recent weeks.
There have been fears IS would step up its bombings campaign during the Muslim fasting month of Ramadan.
A car bomb in the northern Shaab district on Sunday killed at least 10 people, and a suicide bomber struck at a nearby market, claiming more lives.
Another car bomb exploded in the Bunouk district killing at least nine people. Scores of others were wounded in the attacks, medics said.
IS has occupied parts of Iraq and is battling government forces in the north and west of the country.
The government announced on Monday that it had begun a long-awaited, large-scale military offensive to dislodge IS from Anbar province,
Meanwhile, the UN has said that about 15,000 civilians have been killed in Iraq since the start of 2014.
It says that it recorded at least 44,136 civilian casualties (14,947 killed and 29,189 wounded) as a result of "non-international armed conflict in Iraq".
The report says the figure, which runs up to the end of April 2015, only takes account of verifiable casualties and that the real toll may be much higher.