Yemen conflict: Houthi rebels driven back in Aden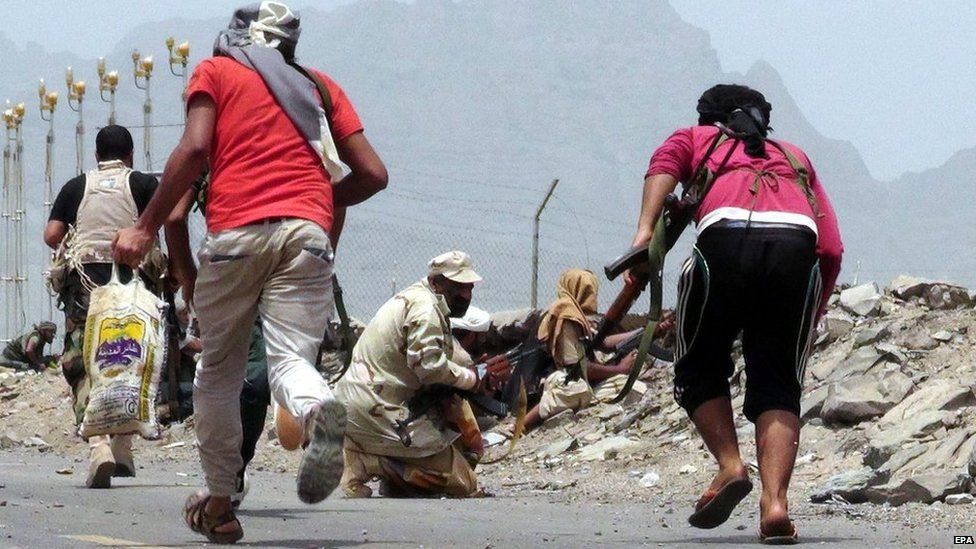 Pro-government militiamen have made further advances against Houthi rebels in the southern Yemeni city of Aden.
Fighters backed by Saudi-led coalition air strikes were reported to have taken the main seaport as well as the neighbouring district of Mualla.
It comes a day after they regained control of the international airport.
Aden has been a key battleground since the Houthis and allied army units forced President Abdrabbuh Mansour Hadi to flee the country in late March.
Medics told the Reuters news agency dozens of combatants and civilians had been killed in the past two days of fighting.
From his base in Riyadh, President Hadi was said to be personally supervising the offensive to drive the Houthis out of Aden, dubbed "Operation Golden Arrow".
Southern militiamen from the Popular Resistance Committees (PRC) were joined on the ground by Yemeni soldiers recently trained in Saudi Arabia and supported by coalition aircraft and warships deployed in the Gulf of Aden.
Residents said scores of fighters were on the streets of Aden on Wednesday, while a Reuters journalist saw about 40 armoured vehicles PRC members said had been provided by the United Arab Emirates.
Pro-government forces reportedly massed outside Mualla in the morning before advancing steadily into the district, which is home to the provincial government headquarters, and forcing the rebels to pull back to Tawahi, to the west.
On Tuesday, they over-ran the airport and the key district of Khormaksar, which connects the peninsula where much of the city is located with the mainland.
A military official told the AFP news agency that PRC fighters had also captured a coastal road to the west that overlooks the Bab al-Mandab strait, which separates the Gulf of Aden from the Red Sea, and links Aden to Mocha.
The losses in Aden represent the biggest setback for the Houthis since the Saudi-led air campaign against them started on 26 March, when the rebels and soldiers loyal to ousted former president Ali Abdullah Saleh reached the outskirts of Aden.
Mr Hadi had taken refuge in the city the previous month after the Houthis consolidated their control of the capital, Sanaa, and placed him under effective house arrest.
The offensive in Aden comes after the collapse of a ceasefire that was supposed to have taken effect before midnight on Friday to allow for aid deliveries.
The UN says more than 3,200 people, half of them civilians, have been killed in air strikes and fighting on the ground in the past 15 weeks.
Another one million civilians have been displaced by the conflict and more than 80% of Yemen's 25 million people now need some form of humanitarian aid.
Thirteen million face food shortages, while access to water has become difficult for nine million.