UN Security Council endorses Iran nuclear deal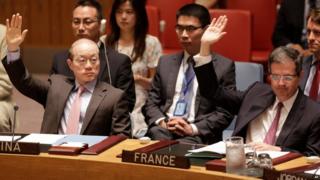 The UN Security Council has unanimously endorsed the nuclear deal between Iran and six world powers agreed last week.
The resolution, co-sponsored by all 15 members, authorises the lifting of sanctions in return for Iran curbing sensitive nuclear activities.
But it also provides a mechanism for UN sanctions to "snap back" if Iran fails to comply with its obligations.
No further action is required for 90 days, to give the US Congress time to consider whether to give its approval.
President Barack Obama said he hoped the resolution would "send a clear message" to critics that the "overwhelming number of countries" recognised diplomacy was "by far our strongest approach to ensuring that Iran does not get a nuclear weapon".
"There is broad international consensus around this issue," he added. "My working assumption is that Congress will pay attention to that broad basic consensus."
Iran insists that its nuclear programme is entirely peaceful.
---
What happens next?
Mid-September* - US Congress to decide whether to accept or reject the deal
Mid-October* - Nuclear deal formally takes effect (so-called Adoption Day)
After mid-October - Iran and world powers to begin preparations for implementing their commitments
First half of 2016* - First lifting of sanctions if IAEA verifies Iranian compliance (so-called Implementation Day)
*Approximate dates
---
'Destabilising actions'
The Security Council passed seven resolutions between 2006 and 2015 requiring Iran to stop producing enriched uranium - which can be used for civilian purposes, but also to build nuclear bombs.
Four of the resolutions imposed sanctions in an effort to persuade Iran to comply.
On Monday, the Security Council formally endorsed the long-term nuclear accord negotiated by its five permanent members - US, UK, France, China and Russia - plus Germany, the so-called P5+1.
The resolution says that no sanctions will be lifted until the global nuclear watchdog, the International Atomic Energy Agency (IAEA), submits a report verifying that Iran has implemented the measures outlined in the Joint Comprehensive Plan of Action (JCPOA).
It also allows for the UN sanctions to be re-imposed if Iran breaches the deal within the next 10 years. However, the P5+1 member states told UN Secretary General Ban Ki-moon last week that they had agreed to extend the snap-back provision for an additional five years.
The resolution also allows for the continuation of the UN arms embargo on Iran for up to five years and the ban on sales of ballistic missile technology for up to eight.
US permanent representative Samantha Power, told the Security Council the nuclear deal did not change her country's "profound concern about human rights violations committed by the Iranian government or about the instability Iran fuels beyond its nuclear programme".
"Denying Iran a nuclear weapon is important, not in spite of these other destabilising actions but rather because of them," she added.
Iran's envoy, Gholamali Khoshroo, promised it would be "resolute in fulfilling its obligations" and rejected the US accusations as baseless and ironic.
Iran's foreign minister meanwhile criticised the US for not withdrawing the threat of military action against his country as a result of the nuclear accord.
"Applying force... is not an option but an unwise and dangerous temptation," Mohammad Javad Zarif was quoted as saying by the official Irna news agency.
His warning comes a day after US Defence Secretary Ashton Carter said during a visit to Israel that "one of the reasons why this deal is a good one is that it does nothing to prevent the military option".
Israel's Prime Minister Benjamin Netanyahu called the deal an "historic mistake" that cleared the way for Iran to acquire nuclear weapons.