Yemen: First UN aid ship in four months reaches Aden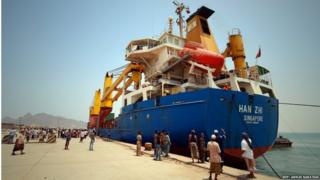 A United Nations aid ship carrying food supplies has docked in Yemen's southern city of Aden for the first time since fighting broke out there in March.
The port has been inaccessible until now because of Saudi-led coalition air strikes and fierce clashes between local militiamen and Houthi rebels.
The UN vessel was followed later in the day by another aid ship from the United Arab Emirates.
More than 80% of Yemen's 25 million people now requires humanitarian aid.
The UN ship was carrying 4,700 tonnes of food supplies - enough to feed 180,000 people for a month - as well as pharmaceutical aid.
"This is a major breakthrough for our humanitarian response,'' said Muhannad Hadi, a regional director for the UN's World Food Programme (WFP).
"While we have been able to reach several southern areas by land, docking at the port of Aden allows us to accelerate our response to meet urgent needs," he added.
Vast amounts of food supplies are needed in Yemen - the UN estimates that 13 million people, more than half of the country's population, are facing food shortages.
---
Why is there fighting in Yemen?
Northern Shia Muslim rebels known as Houthis, backed by forces loyal to Yemen's ex-president, took over parts of Yemen, including Sanaa, and forced the government into exile in March
The rebels accused the government of corruption and of planning to marginalise their heartland within a proposed federal system
Forces loyal to the government, and southern militia, are fighting back, aided by air strikes led by neighbouring Saudi Arabia
Yemen crisis: Who is fighting whom?
---
The UN has tried repeatedly over the past few weeks to deliver supplies to Aden but has been prevented by severe fighting around the port.
Vessels sent by the UAE managed to reach the city in May but not under the UN flag.
The much-needed aid arrived as forces loyal to Yemen's exiled President Abdrabbuh Mansour Hadi strengthened their control of Aden.
The governor of Aden, Nayef al-Bakri, said that local militias and army units loyal to Mr Hadi, backed by Saudi-led air strikes, had taken full control of the city.
They are fighting the Houthi rebels, who seized the capital Sanaa in September, and allied troops loyal to former President Ali Abdullah Saleh.
The UN says the conflict has killed more than 3,640 people, around half of them civilians, since late March.