Yemen conflict: President Hadi loyalists storm key air base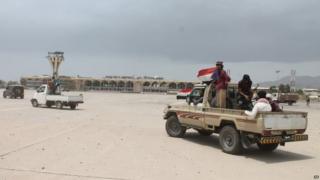 Pro-government forces in Yemen have launched a major offensive to oust Houthi rebels from an air base north of the port of Aden, military sources say.
They say a number of rebels were killed as troops loyal to President Mansour Abdrabbuh Hadi and militia units stormed the strategic southern base.
Al-Anad, 60km (37 miles) from Aden, had previously housed US troops overseeing drone attacks on al-Qaeda in Yemen.
Government forces have recently made gains against the Houthis.
Last month, they claimed to have advanced into the last part of Aden still held by the Shia rebels.
During Monday's offensive, government troops used tanks and armoured vehicles supplied by the Saudi-led coalition against the rebels, military sources say.
Coalition warplanes were reportedly providing air cover.
The capture of the air base would give government forces access to the road from Aden to the city of Taiz, where the rebels have been fighting local militias loyal to President Hadi.
The Saudi-led coalition has carried out more than four months of air strikes against the Houthis, who still hold the Yemeni capital Sanaa.
The rebel advance earlier this year forced President Hadi to flee to Saudi Arabia.
---
Why is there fighting in Yemen?
Northern Shia Muslim rebels known as Houthis, backed by forces loyal to Yemen's ex-president, took over parts of Yemen, including Sanaa, and forced the government into exile in March
The rebels accused the government of corruption and of planning to marginalise their heartland within a proposed federal system
Forces loyal to the government, and southern militia, are fighting back, aided by air strikes led by neighbouring Saudi Arabia
Yemen crisis: Who is fighting whom?
---