Israel jails suspected Jewish militant without trial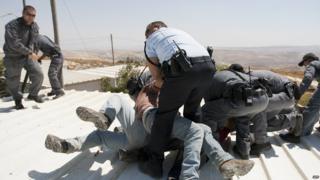 Israel has taken the unusual step of jailing a suspected Jewish militant without trial, amid a tightening of measures against Jewish extremists.
Mordechai Meyer, a resident of a Jewish settlement in the West Bank, has been placed under administrative detention for six months.
He is suspected of violent activity as part of a "Jewish terror group".
Israel frequently uses administrative detention against Palestinians but its use against Jewish suspects is rarer.
The use of such orders against Jewish militants was approved on Sunday by Prime Minister Benjamin Netanyahu's security cabinet.
The measure was taken in the wake of an arson attack which killed an 18-month-old Palestinian, Ali Saad Dawabsha, and severely injured his parents and brother in the West Bank village of Duma on Friday.
Israeli police spokeswoman said at the time that the incident was a "suspected attack with nationalist motives" after slogans sprayed in Hebrew were found at the scene.
An investigation is under way although police have not issued any information about any suspects.
Israel's Defence Ministry said Mr Meyer was placed under administrative detention for "involvement in violent activity and recent terrorist attacks as part of a Jewish terror group". Authorities did not say whether his detention was linked to the arson attack.
Under administrative detention Israel can hold suspects indefinitely subject to a judge approving their continued detention every six months.
Detention without trial is necessary, Israel says, to stop further violence in cases where there is not enough evidence to prosecute suspects, or where going to court would risk revealing the identity of secret informants.
Civil liberties groups have frequently criticised administrative detention orders as an abuse of due process of the law.
On Monday Israel said it could use harsh interrogation methods to tackle violent Jewish extremism, after the death of the Palestinian infant.
Interior Security Minister Gilad Erdan told Israel Radio that suspected Jewish extremists may be shaken violently in custody - a controversial treatment used on Palestinian suspects.
Correction: This story has been amended to make clear that administrative detention has previously been used against Jewish suspects.