The big business of trophy hunting in Iran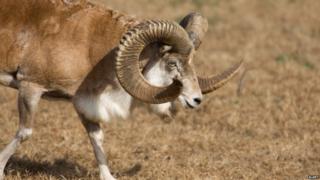 The furore over the killing by a US dentist of Cecil the lion in Zimbabwe has thrown a spotlight on trophy hunting - but while Africa is commonly associated with the sport, American enthusiasts are finding another popular hunting destination - the Islamic Republic of Iran.
Every year, Iran's Environment Protection Agency issues about 500 licences to foreign visitors to hunt rare and protected breeds.
Many of these hunters come from the US, despite the absence of diplomatic relations and a state of tension between the two countries for the past 35 years.
They have been heading there since the US Treasury Department's Office of Foreign Assets Control (Ofac) made it legal for US agencies to book hunting tours to Iran more than a decade ago.
Even at the height of hostilities between the US and Iran, American trophy hunters were scouring Iran's hills and valleys in search of ibex, gazelles and the Transcaspian Urial, a rare breed of sheep that is only legally available to hunt in Iran.
A quick browse of the internet reveals a plethora of travel companies, from Belgrade to Moscow to Beijing, all offering hunting trips to Iran.
Many are clearly aimed at the American market and feature big colour pictures of Western hunters posing with photogenic curly-horned mountain sheep.
'We are now able to offer you a truly unique and adventuresome hunting experience in Iran," reads one announcement on a US-based hunting website advertising destinations around the world.
One Chinese site acknowledges that it can be difficult for American hunters to take firearms into Iran, or to bring trophies out. But it pledges to deal with all possible obstacles in the way of "sheep-hunters fulfilling their dream".
Species decimated
For Iran and the companies organising the tours, trophy hunting is big business.
Affluent foreign visitors pay about $15,000 for the chance to hunt a Transcaspian Urial, and as much as $20,000 for the chance to bag another rare sheep called the Laristan Mouflon.
For nationalists, the revenue generated by hunting seems to outweigh any concerns about the numbers of American and other foreign hunters coming to Iran in search of rare species.
But for conservationists, it is a matter of increasing dismay.
Iran is home to a diverse range of wildlife, from bears and gazelles to Caspian seals and rare snakes.
But the country's wildlife is under severe strain. Urban development and hunting have all but destroyed some of the rare species that once roamed Iran.
As many as 120 Iranian breeds are on the International Union for the Conservation of Nature's Red List of Threatened Species.
Most famous of these are the Iranian cheetah, of which only 50 still survive, and the Persian leopard, now numbering about 5,000.
Growing awareness
Since his election in 2013, President Hassan Rouhani has made the environment one of his priorities, and public awareness has slowly followed.
Iranian social media is now buzzing with environmental and wildlife news, and efforts are being made at a local level to educate communities on how to coexist sustainably with the wildlife in their area.
Declarations of support for Iranian rangers, whose task is to protect endangered species, have increased in recent years.
However, this has not been matched by more legal protection - several have been sentenced to death for killing poachers - higher wages or a recruitment drive.
For the rangers, it is an uphill battle to stop unlicensed hunters who continue to threaten Iranian wildlife.
Tackling illegal hunters and poachers has now become an issue of public concern, with Iranian state television running educational and environmental awareness programmes.
Outrage over several recent cases of local poachers recording their kills on video has spurred the Iranian judiciary to take action.
The hunting lobby in Iran though is powerful and argues that legal trophy hunting is an important conservation tool.
With budgets tight, hunting licenses are a valuable source of revenue for the Environmental Protection Agency.
But many environmentalists say there is a worrying lack of accountability in how the proceeds from trophy hunting are being spent, and they also question the science behind the animal headcounts on which these licenses are granted.
The Environmental Protection Agency also has concerns about the way the current system is working.
Officials have strongly condemned a number of incidents in which foreign hunters appear to have broken the rules by killing endangered leopards, posting photographs to prove it on Facebook - and in some cases even managing to take mounted trophies out of the country.
Double-edged sword
Another problem concerns rare birds.
Last year, the Iranian navy raided a boat in the Gulf of Oman and discovered 140 live Iranian falcons on board.
They were being smuggled out of the country to the Gulf states by wealthy Arab hunters.
Environmentalists say poaching by foreigners, who get access to rare birds by applying for legal hunting licences, is taking a huge bite out of rare bird populations already on the verge of extinction.
Iran is attractive to hunters because it combines biodiversity with a relatively modern infrastructure and communications network.
Improved relations with the US after the nuclear deal could prove a double-edged sword for Iranian wildlife if more hunting tourists decide to travel there.
President Rouhani and his high-profile Environment Affairs Minister, Massoumeh Ebtekar, will be faced with the difficult choice between promoting animal trophy hunting as a cultural tool for increased openness between the two nations, or cracking down on hunting and incurring an economic loss.
In the meantime, what is certain is that hunting tour companies are continuing to look for opportunities to expand their business in Iran.