Yemen crisis: Rebels 'driven out of key city of Zinjibar'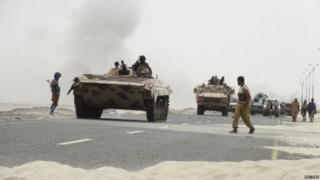 Pro-government forces in Yemen, backed by Saudi-led airstrikes, are reported to have retaken the city of Zinjibar from Houthi rebels.
Zinjibar is the capital of the southern Abyan province and has been the scene of heavy fighting in recent days.
Its loss would be another big blow to the rebels in the wake of the recapture of Yemen's second city, Aden, by pro-government militias last month.
They were driven out of a key airbase this week, following the loss of Aden.
Reports say pro-government troops entered Zinjibar, some 50km (30 miles) east of Aden, after overrunning a Houthi barracks outside following strikes from a Saudi-led coalition.
Residents of the coastal town who were forced to flee began returning on Sunday, a humanitarian official told the AFP news agency.
At least 19 people were killed and more than 150 injured in fighting over the weekend in Zinjibar and the surrounding area, according to Aden health chief Al-Khader Laswar.
Separately, the United Arab Emirates said Saturday that three of its soldiers were killed while taking part in a Saudi-led campaign.
The statement carried by the Gulf state's official news agency WAM did not say how or where the soldiers were killed.
Yemeni security officials say Saudi, Emirati, Egyptian and Jordanian military advisers are training hundreds of pro-government fighters at a base near Aden.
The Houthis advanced south in March, forcing President Abdrabbo Mansour Hadi to flee to Saudi Arabia.
Sunni power Saudi Arabia regards the Houthis as proxies of Shia rival Iran. It alleges Iran has provided the Houthis with weapons, something Iran and the Houthis deny.
The rebels - backed by forces loyal to former President Ali Abdullah Saleh - say they are fighting against corruption and marginalisation of their northern powerbase by Mr Hadi's government.
The conflict has killed almost 4,000 people, nearly half of them civilians, since it escalated with the Saudi-led campaign in March, according to the United Nations.
---
Why is there fighting in Yemen?
Northern Shia Muslim rebels known as Houthis, backed by forces loyal to Yemen's ex-president, took over parts of Yemen, including Sanaa, and forced the government into exile in March
The rebels accused the government of corruption and of planning to marginalise their heartland within a proposed federal system
Forces loyal to the government, and southern militia, are fighting back, aided by air strikes led by neighbouring Saudi Arabia
Yemen crisis: Who is fighting whom?
Why are Gulf states fighting in Yemen?