Bin Laden: Osama's son Hamza 'issues al-Qaeda message'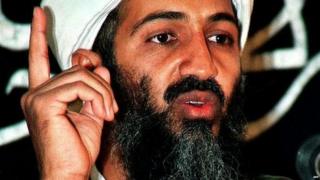 Al-Qaeda has released an audio message that it claims has come from Hamza Bin Laden, a son of Osama Bin Laden.
The message is believed to be the first time al-Qaeda propaganda has presented Hamza Bin Laden as an official member of the militant group.
In the message, shared by al-Qaeda supporters on Twitter, Hamza Bin Laden urges attacks on the US and its allies.
Osama Bin Laden was killed by US special forces in 2011 in a raid on his compound in Abbotabad, Pakistan.
The group has since been led by al-Qaeda's former second-in-command, Ayman al-Zawahiri.
Hamza Bin Laden's whereabouts are not known. He is believed to be in his mid-twenties.
During the US-led invasion of Afghanistan in 2001, the Al-Jazeera network broadcast footage that appeared to show him among Taliban fighters in Afghanistan.
His audio message, released on an al-Qaeda website, calls upon followers in Kabul, Baghdad and Gaza to wage jihad, or holy war, on Washington, London, Paris and Tel Aviv.