Yemen crisis: Houthi rockets 'kill civilians in Taiz'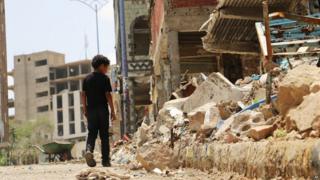 At least 14 civilians have been killed by rockets fired by Houthi rebels in Taiz, as the battle for Yemen's third city intensifies, reports say.
One resident told the Reuters news agency that most of the dead in the Deluxe district were children.
All but one of the city's hospitals were closed, so there was a shortage of medical care for the wounded, he added.
The Saudi-led coalition backing pro-government forces meanwhile continued to bomb rebel positions in Taiz.
Sixty-five people, most of them civilians, were killed in coalition air strikes in the city on Friday, Medecins Sans Frontieres (MSF) said.
'Awful situation'
For some months, Taiz has been the scene of heavy fighting between forces loyal to the exiled President Abdrabbuh Mansour Hadi and those allied to the Houthi rebel movement. Hundreds of combatants and civilians have been killed.
In recent weeks, pro-government fighters have captured several locations in Taiz and reportedly now control most of the city.
"The situation is awful and the fighting is happening on many fronts," resident Abdul Aziz Mohammed told Reuters on Monday. "Taiz is being devastated."
Meanwhile, the coalition stepped up its air strikes in the northern provinces of Marib and Jawf in order to allow pro-government forces to push into Houthi strongholds, officials told the Associated Press.
The UN says that almost 4,500 people - including 1,950 civilians - have been killed since 26 March, when the Saudi-led coalition began an air campaign to defeat the Houthis and restore President Hadi.
---
Why is there fighting in Yemen?
Northern Shia Muslim rebels known as Houthis, backed by forces loyal to Yemen's ex-president, took over parts of Yemen, including Sanaa, and forced the government into exile in March
The rebels accused the government of corruption and of planning to marginalise their heartland within a proposed federal system
Forces loyal to the government, and southern militia, are fighting back, aided by air strikes led by neighbouring Saudi Arabia
Yemen crisis: Who is fighting whom?
Meeting the Houthis and their enemies
Yemen's humanitarian catastrophe
---