Lebanon rubbish crisis: Police eject ministry occupiers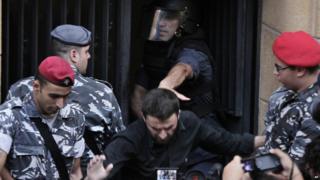 Police in Lebanon have forcibly removed a group of protesters who occupied the environment ministry demanding the minister step down.
Activists said they were dragged out about nine hours after the sit-in began. At least two were injured.
The demonstrators were part of the "You Stink" campaign, which was triggered by anger over rotting rubbish in Beirut.
But it has since grown into a wider attack on the perceived corruption and incompetence of politicians.
After a huge demonstration on Saturday, protestors issued a 72-hour deadline for Environment Minister Mohammed Machnouk to step down. The activists also want snap parliamentary elections.
The ministry occupiers sat cross-legged shouting "out, out, out", with the minister himself meanwhile reportedly holed up in an office on the same floor.
Some protesters said they were beaten with batons as they were removed.
There were further scuffles between police and crowds supporting the occupiers outside the ministry.
"It's just the beginning,'' one of the protesters inside the ministry, Imad Bazzi, told the Associated Press.
Rubbish has been piling up on the streets of Beirut since the country's largest landfill shut down in July with no ready alternative.
The "You Stink" movement blames political paralysis and corruption for the failure to resolve the crisis.
Last week, the cabinet failed to reach agreement on a way forward, saying the fees quoted by private waste management companies were too great.
Mr Machnouk has refused to resign but has stepped down from a committee dealing with the crisis.
Lebanon has been without a president for more than a year, while members of parliament have extended their own terms until 2017 after failing to agree on a law on fresh elections.
The conflict in neighbouring Syria has also exacerbated political and sectarian divisions, and resulted in the arrival of 1.1 million refugees, putting a strain on the economy and public services.