Egypt agriculture minister held on corruption charges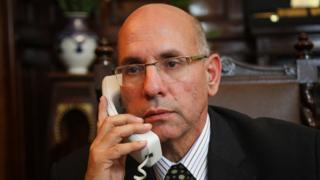 Egypt's Agriculture Minister Selah Eddin Helal has been arrested shortly after resigning on Monday.
Security and judicial sources said that he was being held as part of a corruption probe.
A statement from the prime minister's office said Mr Helal had resigned on the orders of President Abdul Fattah al-Sisi.
It is the first arrest of a high-profile official in such a case since Mr Sisi was elected in May 2014.
Reports say the arrest is in connection to allegations that officials took bribes to help businessmen illegally acquire state land.
Prosecutors had last week banned the media from reporting the investigation.
In May former President Hosni Mubarak was sentenced to three years in jail on corruption charges after a retrial.
His sons were given four years each in the same case, which centred on the embezzlement of $14m (£9.3m) earmarked for the renovation of presidential palaces.
Mr Sisi has promised to make the fight against corruption a focus of his administration.