Yemen conflict: Five Saudi soldiers killed on border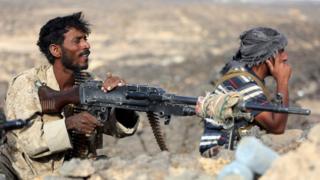 Five Saudi soldiers have been killed in the southern province of Najran near its border with Yemen, officials say.
Saudi Arabia is leading a coalition of Arab forces that backs the Yemeni government against Houthi rebels.
On Sunday the coalition launched an offensive against the rebels in Yemen's central province of Marib.
The coalition is trying to restore exiled President Abdrabbuh Mansour Hadi, who left as the Houthis gained control over much of the country.
The United Arab Emirates said one of its soldiers had been killed in the Marib offensive, whose aim appears to be to push towards the rebel-held capital Sanaa,
Also on Sunday Mr Hadi's government, currently in exile in Saudi Arabia, said it was pulling out of UN-mediated peace talks in Oman.
Mr Hadi's office said it would not to take part until the rebels agreed to withdraw from territory they have captured
The UN says some 4,500 people - including at least 2,110 civilians - have been killed in fighting on the ground and by coalition air strikes since late March.
Coalition countries are thought to have sent several thousand troops to Yemen in an effort to restore President Hadi to power.
They helped southern militiamen opposed to the Houthis retake the southern port city of Aden in July and have since advanced northwards.
---
Why is there fighting in Yemen?
Northern Shia Muslim rebels known as Houthis, backed by forces loyal to Yemen's ex-president, took over parts of Yemen, including the capital, Sanaa, and forced the government into exile in March
The rebels accused the government of corruption and of planning to marginalise their heartland within a proposed federal system
Forces loyal to the government and southern militias are fighting back, aided by air strikes and ground troops led by neighbouring Saudi Arabia
Yemen's humanitarian catastrophe
Meeting the Houthis and their enemies
---