Clashes after funeral of Palestinian shot in West Bank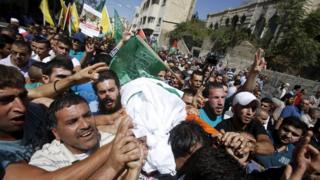 There have been clashes between Palestinian youths and Israeli forces in the West Bank after the funeral of a woman shot at a checkpoint on Tuesday.
The youths threw stones at the troops in the divided city of Hebron, who fired stun grenades and tear gas.
The Israeli military said Hadeel al-Hashlamun, an 18-year-old student, was killed after she pulled out a knife and attempted to stab a soldier.
But its account has been disputed by a witness and her family.
Ms Hashlamun's death came shortly after that of another Palestinian, who the Israeli military said was killed when a bomb he was trying to throw at soldiers blew up in a village near Hebron.
'Everyone was shouting'
Mourners for Ms Hashlamun called for both international protection and revenge during her funeral procession, reports the BBC's Yolande Knell in the West Bank.
Video from a Palestinian news agency added to their anger, our correspondent adds. It appears to show the student - dressed in a black robe - lying on the pavement bleeding for some time after the shooting, with Israeli soldiers and settlers standing nearby.
The Israeli military said that Ms Hashlamun was walking through a checkpoint dividing the Israeli- and Palestinian-controlled parts of Hebron on Tuesday when a metal detector went off.
"Forces called for her to halt, which she ignored, and she continued moving while also pulling out a knife," a statement said.
"At this point, forces fired at the ground, then at her lower extremities in attempts to stop her advancement. The perpetrator continued and at this point, recognising a clear and present danger to their safety, the forces fired toward her."
The military issued a picture of a knife, which it said Ms Hashlamun had been carrying, lying on the ground at the scene.
However, a Palestinian man who was also at the checkpoint disputed the account.
Fawaz Abu Eisheh said he believed Ms Hashlamun kept walking because she did not understand what the soldiers were saying in Hebrew. When he told her in Arabic to move back towards the exit, she complied, he added.
"While she was walking there, one of the soldiers stopped her and shot toward the floor, the girl stopped like a needle, she didn't move," he told AP. Several other soldiers then surrounded her, and everyone was shouting, he added.
"In the middle of all this shouting, one of the soldiers shot directly at her left leg, she fell down and didn't move," Mr Abu Eisheh said. "After 10 to 15 seconds later, he shot another bullet at her right leg, after 10 seconds, he shot four, five bullets at her abdomen and chest area, and then after five, 10 seconds he shot another bullet from one metre away."
Photographs of the incident published by Palestinian activists show a veiled woman believed to be Ms Hashlamun standing in front of two soldiers who are aiming their rifles at her.
Ms Hashlamun's father said she was "killed in cold blood" and demanded the Israeli military release video footage from surveillance cameras at the checkpoint.