Yemen conflict: 'Deadly attack' on wedding party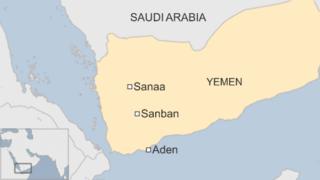 At least 13 people have been killed an explosion at a wedding in a rebel-held village in Yemen, medics say.
Residents of Sanban, about 80km (50 miles) south of the capital Sanaa, said a missile had struck a house where three brothers were getting married.
They said the missile was fired by an aircraft from the Saudi-led coalition that has conducted air strikes against the rebel Houthi movement since March.
But the coalition denied responsibility and blamed rebel propaganda.
It also again rejected claims that it bombed a wedding reception on Yemen's Red Sea Coast on 28 September, killing as many as 130 people.
The UN says almost 4,900 people, including 2,355 civilians, have been killed in air strikes and fighting between pro-government and rebel forces in the last six months.
The explosion in Sanban, in Dhamar province, occurred just as the brides arrived at the house to marry the brothers in a joint ceremony, their cousin Tawfiq al-Sanabani told the New York Times.
"I saw bodies lying in the yard, decapitated, charred," he said.
Local medics said at least 13 people were killed, including the brothers, and 38 others wounded.
But Safwan al-Ansi, the chief of the emergency department told the New York Times that 23 people had died and that more bodies were believed to be buried under the rubble of the house.
Mr Sanabani and other residents said the cause of the blast was an air strike.
Pro-rebel al-Masirah television also blamed "aggression warplanes", a reference to the coalition.
But coalition spokesman Brig Gen Ahmed al-Asiri told the AFP news agency: "We did not conduct any operation in Dhamar... No strikes there, definitely."
He accused the Houthis of employing a "new media strategy" after losing territory to pro-government militiamen and coalition troops, who have been advancing towards Sanaa since regaining control of the southern port city of Aden in July.