Suicide attack on Saudi Arabia mosque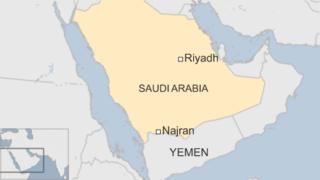 At least one person has been killed and a dozen others injured in a suicide attack in Saudi Arabia, state TV says.
The militant group Islamic State (IS) has claimed responsibility, saying it had targeted the country's Shia minority.
The bomb exploded at a Shia mosque in the southern city of Najran, near the border with Yemen.
Sunni militants from the group have launched several deadly shooting and bomb attacks on Shia Muslims this year.
Unconfirmed reports suggested the number of dead might be higher.
It was not clear whether the attacker was killed by the blast.
Police found a letter by the bomber addressed to his parents confirming his intention of carrying out the attack, an interior ministry statement said.
An IS social media posting said the attack had targeted the "rejectionist Ismailis", referring to a branch of Shia Islam known as Ismailism.
The Najran region has a large number of Ismaili residents.