Who are Egypt's militant groups?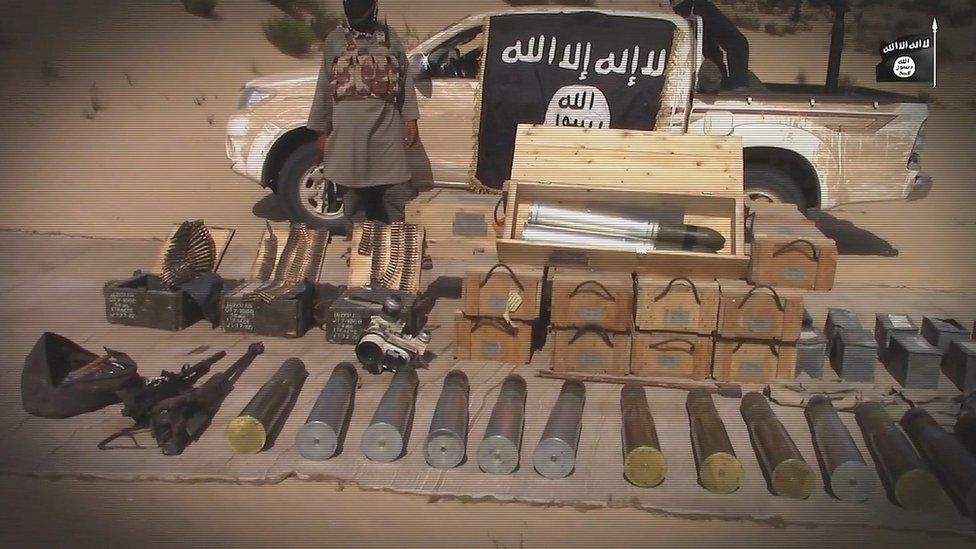 More than 200 people have died in an unprecedented attack targeting a Sunni mosque in Egypt's Sinai Peninsula during Friday prayers, highlighting the alarming threat posed by jihadist militants in the region.
So far, no group has claimed responsibility for the attack, the deadliest of its kind in the country.
So-called Islamic State (IS) is the most prominent and violent of the militant groups in Sinai, with a record of targeting civilians in that area and in mainland Egypt.
Other groups active in the country are mostly aligned with IS's arch jihadist rival, al-Qaeda.
IS's Sinai affiliate, Sinai Province, has claimed responsibility for many deadly attacks, mostly targeting the army in Sinai. It also claimed the downing of a Russian airliner in October 2015.
Formerly known as Ansar Beit al-Maqdis, the group first appeared in September 2011 and rebranded itself with an IS pledge of allegiance in November 2014.
The group generally targets Egyptian security forces in northern Sinai, but has also claimed an attack on a tourist site in southern Sinai in April.
In the first part of the year IS stepped up its rhetoric and attacks against Christians in Sinai and elsewhere in Egypt, claiming two deadly attacks on churches in Tanta and Alexandria on 9 April.
IS started to scale up its attacks in Sinai since September, as it started losing territory in Iraq and Syria.
On 24 November, IS boasted about attacks it had carried out earlier in the week targeting policemen in western Arish, the area of the attacked mosque.
In addition to its attacks on Christians, IS has adopted a threatening tone against Sufi Muslims, whom it considers to be heretics.
The head of IS's religious police in Sinai had previously said that Sufis who did not "repent" would be killed. IS has beheaded a number of Sufi men whom it accused of "sorcery".
The propaganda and rhetoric of this low-profile group suggests alignment with al-Qaeda.
Its rivalry with IS in Sinai surfaced in November when Jund al-Islam issued a threat to IS militants.
In an audio message released on 11 November, Jund al-Islam claimed responsibility for an October attack on IS militants in Sinai, and vowed to crush the rival group "for committing crimes against Muslims" in the peninsula.
A day later, Jund al-Islam issued another statement condemning the 9 November deadly attack on lorry drivers in northern Sinai, as well as blaming IS and the Egyptian government for the deaths.
In both its recent messages, Jund al-Islam stressed that it did not target "innocent Muslims".
Jund al-Islam's recent communiques follow a lengthy spell of media silence since 2015, and suggest the group is presenting itself as a challenger to IS in Sinai.
The group emerged in September 2013 with a claim of a double suicide attack on the Egyptian military intelligence HQ in the northern Sinai town of Rafah, which borders the Gaza Strip.
It stepped up its propaganda campaign in 2015, claiming rocket attacks on Israel and issuing a propaganda video that hinted at links with al-Qaeda in Yemen (AQAP).
Not to be confused with the former Sahara-based jihadist group al-Mourabitoun, this Egyptian faction announced itself in 2015.
However, since its formation, the group has not been observed to carry out any prominent attacks, and has mainly put out statements and threats.
Given its lack of visible activity, it remains unclear where exactly al-Mourabitoun operates in Egypt.
Its propaganda suggests an al-Qaeda orientation, and veteran jihadist media operatives have linked it to an al-Qaeda attempt to check the rise of IS in Egypt.
Its leader, Abu-Umar al-Muhajir, alias Hisham Ashmawi, is a former Egyptian army officer and a senior figure in Ansar Beit al-Maqdis before it pledged allegiance to IS.
In October 2015, Ashmawi called for the killing of Egyptian military officers, and for revenge in response to the deaths of Palestinians by Israel's security forces.
Ashmawi reiterated that message in March 2016, and urged Muslim clerics to play an active role in encouraging young people to embrace jihad.
This new group, not to be confused with the veteran Ansar al-Islam in Iraq, emerged in November, when it claimed responsibility for a high-profile attack in Egypt's Western Desert.
Ansar al-Islam described the attack, in which more than 50 security personnel died, as "the beginning of our jihad".
The group's attack claim and its founding statement of 3 November was widely circulated by high-profile online supporters of al-Qaeda, which suggested a nod of approval.
Its rhetoric and pledge to fight until the establishment of Islamic law suggest a jihadist orientation.
Ansar al-Islam's statement urged Egyptians to join the jihad, or support the group through words or funds.
Meaning "Soldiers of Egypt", this group appeared in January 2014, and carried out attacks in Cairo over the summer.
It has possible al-Qaeda associations, in that the Yemeni and African branches of that network posted eulogies on the death of its leader in April 2015.
It also coordinated attacks with Ansar Beit al-Maqdis before the latter joined IS.
But Ajnad Misr has repeatedly said that it tries to avoid civilian casualties in its attacks.
Many of the group's members are now thought to be in prison.
In October 2017, the Egyptian authorities sought death sentences for 13 individuals with suspected links to the group.
The individuals are accused of killing soldiers, police officers and civilians, with a verdict expected in December.
The Hasm Movement surfaced in the summer of 2016 and has focused on attacking government and security personnel in Cairo and elsewhere in Egypt.
The Egyptian authorities and media have linked Hasm to the Muslim Brotherhood, which is outlawed in Egypt.
The group's rhetoric is more Islamist and "pro-revolution" than jihadist.
On 1 October Hasm targeted the Myanmar embassy in Cairo with an explosive device to express its solidarity with Rohingya Muslims, it said.
Hasm released its first propaganda video in January in which it showcased its training camps and boasted about the range of attacks it had carried out on the Egyptian authorities.
Slick production and the group's claim of organisation and structure in the video were clearly meant to indicate that Hasm was not a shadowy group, but rather a sophisticated force to be reckoned with.