Russian plane crash: Too soon to know cause - Egypt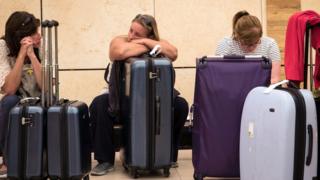 The Egyptian head of the international team investigating the Russian Metrojet plane crash in Sinai has said it is too early to say what caused it.
Ayman al-Muqaddam said all scenarios were still on the table.
On Friday French officials suggested the crash was caused by a violent explosion.
The Airbus 321 came down in the Sinai Peninsula on 31 October, killing all 224 on board shortly after leaving the resort of Sharm el-Sheikh.
Earlier on Saturday, Egyptian Foreign Minister Sameh Shoukry criticised a failure by unnamed countries to share intelligence relating to the crash with Egypt.
The US and the UK have both said intelligence points to the strong possibility it was caused by a bomb.
The UK halted flights to Sharm el-Sheikh and is repatriating tourists.
UK-Egypt plane in 'missile incident'
Lyse Doucet: UK-Egypt ties hit
How is a plane crash investigated?
What we know about the Sinai crash
How has airport security changed?
Mr Muqaddam confirmed reports that a noise had been heard in the last second of recording on the cockpit voice recorder, but said a spectral analysis of the sound would still have to be carried out.
BBC diplomatic correspondent James Robbins says the analysis will include detailed scrutiny of the sound waves, and experts say it should be very easy to establish if the noise was caused by a bomb.
Mr Muqaddam said his committee, which also includes Russian, French, German and Irish experts, had not been provided with evidence of any particular scenario, adding that "all scenarios are on the table".
They would examine any evidence provided, he added.
French aviation officials familiar with the investigation on Friday told the BBC the crash was not caused by a technical failure. Other French officials said the flight data recorder suggested the cause was a "violent, sudden" explosion.
'Focus on self-interest'
Mr Shoukry said Egypt expected to have access to intelligence about the crash as it was "most closely connected to the issue".
"We expected that the information provided on a technical level would be provided to us on a technical level, instead of it being released to the media in this public manner."
Mr Shoukry also criticised a failure to co-operate in fighting terrorism, accusing some countries of "concentrating on their self-interests" and underestimating the challenges facing Egypt.
However, the UK ambassador to Egypt, John Casson, said he had personally been in close contact with the Egyptian government.
"We've made all the information available and we explained to them the basis for our decision-making," he told the BBC.
The UK announced on 5 November that it was suspending flights and working to bring its citizens home after reviewing airport security at Sharm el-Sheikh.
Most of the victims of the crash were Russian. Russia said on Friday it was suspending flights to Egypt as a whole and recommending its holidaymakers - numbering some 80,000 - return home.
Deputy Prime Minister Arkady Dvorkovich said on Saturday that 10 flights carrying returning Russians had already left Egypt.
Militants known as Sinai Province and linked to the Islamic State group (IS) say they downed the plane, but have not said how.
IS has called for a war against both Russia and the US over their air strikes in Syria.
The American network NBC, quoting unnamed US officials, said on Friday that communications had been intercepted between IS officials in Syria and people in Sinai about how the jet had been brought down.
"They were clearly celebrating," NBC quoted the official as saying.
Our correspondent says the possible involvement of IS in the crash would dramatically change the level of threat posed by IS and its affiliates.
---
Sinai Province militants
Most active insurgent group in Egypt, with 1,000-1,500 members
Operating in Sinai Peninsula since 2011
Pledged allegiance to Islamic State group in November 2014
Carries out suicide bombings, shootings, beheadings; dozens of Egyptian soldiers killed.
Sinai Province: Egypt's most dangerous militant group
Guide to Sinai's active militant groups
Could Islamic State have bombed Flight 9268?
---
Are you in Sharm el-Sheikh? Are you flying back to the UK? If you have any information to share with the BBC, you can email haveyoursay@bbc.co.uk.
Please include a contact number if you are willing to speak to a BBC journalist. You can also contact us in the following ways: