Cyclone Megh batters Yemeni island of Socotra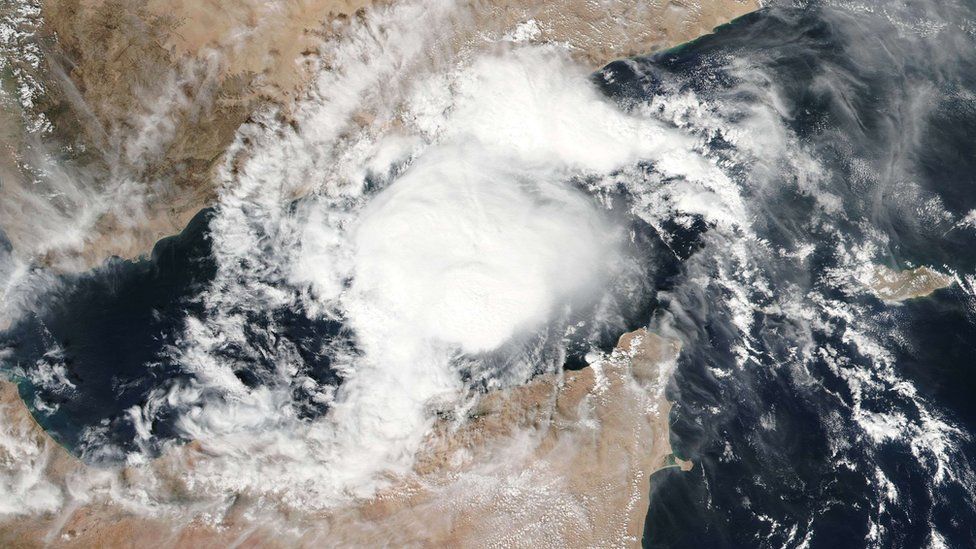 A second extremely rare and powerful tropical cyclone has hit Yemen's Socotra island in the space of a week.
Two people were reported to have been killed as hurricane-force winds and torrential rains brought by the storm, called Megh, triggered flash floods.
The Yemeni government has appealed to the UN and neighbouring Oman to send emergency relief teams to Socotra, which lies far out in the Arabian Sea.
Megh is expected to make landfall on Yemen's coast east of Aden on Tuesday.
Last week, Cyclone Chapala killed eight people on the Yemeni mainland.
At 15:00 GMT on Monday, the US Navy's Joint Typhoon Warning Centre (JTWC) reported that Megh was about 240km (150 miles) south-south-west of the port city of Mukalla and moving westwards, generating gusts of up to 167km/h (104mph).
A government source told the AFP news agency that at least two people were killed on Sunday when it battered Socotra, 350km south-east of Yemen.
Mohammed Alarqbi of the Socotra Environment Office told the Reuters news agency that Megh was "several times worse than Chapala" because it passed directly over the island.
"The material damage is also worse than before, as a larger number of homes have been destroyed and 5,000 more displaced people have fled the northern shores of the island to schools, universities and hospitals," he added.
Before Megh hit, Yemeni Fisheries Minister Fahd Kavieen, who is from Socotra, urged the UN and Oman to "urgently intervene with emergency teams to save residents" of the island.
Planes from Oman and other Gulf Arab states have delivered food and tents to Socotra in recent days, and the UN Office for the Co-ordination of Humanitarian Affairs (OCHA) has set up a support and response team to assist relief efforts.
More than 18,000 people - a third of Socotra's population - were displaced by Chapala and 237 homes were completely destroyed, the OCHA said on Friday. No-one on the island was killed, despite initial reports of several deaths, it added.
The storm also damaged reefs, eroded soil and uprooted many rare plants that are only found on Socotra, including dragon's blood trees, according to Mr Alarqbi.
The JTWC forecasts that Megh will be generating gusts of up to 93km/h (58mph) when it makes landfall near the town of Shuqra around 12:00 GMT on Tuesday.
The OCHA said 230,000 people on the mainland would be exposed to high winds and heavy rainfall, with the provinces of Abyan and al-Bayda worst affected.
A spokeswoman for the UN's World Meteorological Organisation (WMO), Clare Nullis, told AFP that tropical cyclones were extremely rare over the Arabian Peninsula, and that two back-to-back was "an absolutely extraordinary event".
It comes as Yemen experiences a humanitarian crisis as a result of a war between forces loyal to the government and the Houthi rebel movement.
Are you in Yemen? Are you affected? If you have any information to share with the BBC, you can email haveyoursay@bbc.co.uk.
Please include a contact number if you are willing to speak to a BBC journalist. You can also contact us in the following ways: