West Bank: Israeli woman killed as West Bank deaths spiral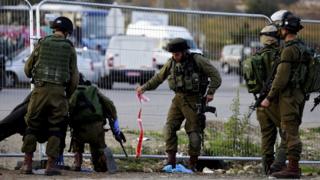 An Israeli woman has died after being stabbed in the West Bank - the latest victim in two months of such attacks.
Her Palestinian attacker was shot dead. Two other Palestinian attackers were killed in separate incidents, police said.
Israeli PM Benjamin Netanyahu urged Israelis to remain alert in the face of "this terrorism by individuals".
Seventeen Israelis and 83 Palestinians - many of them attackers - have been killed in the violence.
The surge in violence began in September, when tensions at a flashpoint holy site in Jerusalem revered by Jews and Muslims boiled over, amid rumours that Israel planned to relax long-standing rules to strengthen Jewish rights at the complex.
Israel has repeatedly denied such claims.
On Sunday, Hadar Buchris, 21, was stabbed at a bus stop, Israeli medics said. She died later in hospital.
The attacker, identified as Isam Thwabteh, 34, and a resident of Beit Fajar, near Bethlehem, was shot by soldiers.
The other attacks involved a man ramming a taxi into an Israeli car and stabbing one of its passengers near Maale Adumim settlement, just outside of Jerusalem, before being shot by a civilian.
An Israeli man was lightly wounded, Haaretz reported.
And a Palestinian girl, 16, had tried to stab a settler near Hawara, south of Nablus, but was run over by an Israeli and then shot dead by soldiers, the army said.
Mr Netanyahu told a cabinet meeting on Sunday that the attacks were a challenge to the security forces.
"This is not terrorism by organisations," he said.
"This is terrorism by individuals, occasionally with kitchen knives, who are incited mainly by social media. It is very difficult to hermetically prevent the arrival of such knife-wielding, or other, terrorists to this or that place."