Syria war: Third of rebels share IS aims, report claims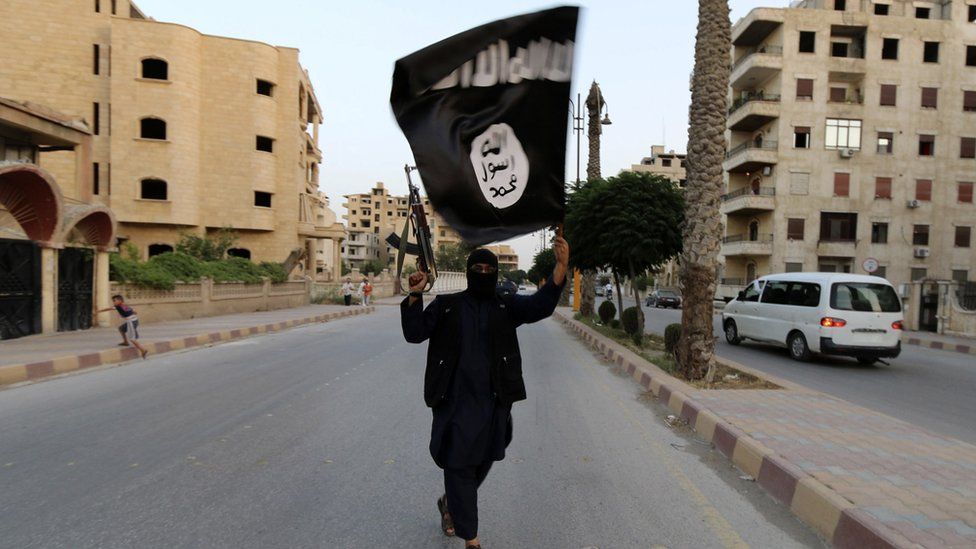 About a third of rebel groups in Syria - some 100,000 fighters - share the ideology of so-called Islamic State (IS), new research suggests.
The Centre on Religion and Geopolitics, linked to former UK Prime Minister Tony Blair, said defeating IS militarily "would not end global jihadism".
That would require an "intellectual and theological defeat" of its ideology.
The Syrian conflict has killed more than 250,000 people. Millions more have been displaced.
A Western coalition has been carrying out air strikes against IS in Syria and Iraq for more than a year.
In September, Russian forces began air strikes against rebels in Syria, targeting "all terrorists", including IS. However, Western-backed groups are also reported to have been hit.
The Centre on Religion and Geopolitics, an initiative of the Tony Blair Faith Foundation, says that Syria now hosts the largest gathering of jihadi groups in modern times.
The report, due to be published on Monday, says the greatest danger to the international community are groups who share the IS ideology but are currently being ignored - they number about 100,000 fighters.
Current Western efforts to define "moderate" and "extremist" rebels are bound to fail, because the groups themselves rarely make the distinction, the centre says.
Some 60% of Syria's major rebel groups are Islamist extremists, and many of the groups share the same aims, the study finds.
Fewer than a quarter of the rebels surveyed were not ideological, and many were willing to fight alongside extremists and would probably accept an Islamist political settlement to the civil war.
And even if IS is defeated, dispersed fighters and other extremists could attack targets outside Syria under a rallying cry that "the West destroyed the Caliphate", the centre warns.
The UN Security Council on Friday unanimously endorsed a peace plan for Syria, including calls for a ceasefire.
The centre says that unless Syrian President Bashar al-Assad leaves or is removed from office, the war in the country is likely to spread further.
Western countries have called for his departure, but Russia and China say he should not be required to leave power as a precondition for peace talks.