Two Israelis die following Jerusalem stabbing attack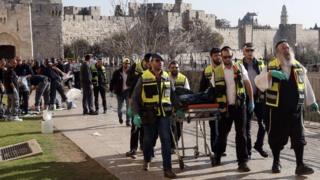 One Israeli has been stabbed to death and a second apparently shot dead accidentally by police during an attack by two Palestinians in Jerusalem.
Both Palestinians were shot by police trying to stop the attack - one died at the scene, the other in hospital.
There has been an upsurge in violence between Israelis and Palestinians in the past three months.
Twenty-one Israelis have now been killed, most of them in stabbings and shooting attacks by Palestinians.
At least 131 Palestinians have also been killed. More than half were said by Israel to be attackers. Others have been killed in clashes with Israeli forces.
Heightened security
The latest attack took place on Wednesday morning near the Jaffa Gate, an entrance to the walled Old City of Jerusalem.
An Israeli police spokesperson said border police officers on patrol in the area had noticed a civilian running in panic towards them and then saw two men stabbing a man. The officers opened fire at the assailants and "neutralised" them, the spokesperson added.
Two Israeli men - one suffering from knife wounds, the other gunshot wounds to the abdomen and upper torso - were subsequently rushed to local hospitals but died.
A third Israeli was also stabbed in the incident, and was said to be in a serious condition in hospital.
The assailants were reportedly identified as Palestinians from the Qalandia area in the occupied West Bank.
Police spokesman Micky Rosenfeld said security had been increased across Jerusalem in preparation for the arrival of thousands of tourists wanting to celebrate Christmas in the Holy Land.
"We can see that this was an organised attack by two terrorists that co-ordinated together, but we don't see at this moment in time any connections between any organized terrorist cell," he told the Jerusalem Post.