Ramadi: Series of IS counterattacks target Iraqi forces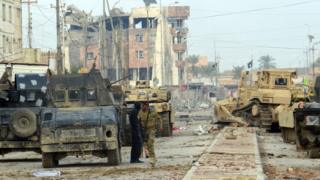 Fighters from so-called Islamic State (IS) have continued to pursue counterattacks on the edges of Ramadi a week after the city was recaptured by Iraqi troops.
Most of the attacks were outside central Ramadi to the north and east, spokesman for the US-led coalition, Col Steve Warren, told the AFP news agency.
He said Iraqi government forces had so far successfully repelled every attack.
On Friday the group attacked a military base near the city.
The Iraqi government said a week ago that it had "liberated" Ramadi from IS. The jihadist group had held the city since May.
Col Warren said they had not yet seen IS "mass enough combat power to move Iraq off their positions".
Is Ramadi the model for defeating IS in Iraq?
Did tactical switch help advance?
The BBC's Thomas Fessy, who has just returned from Ramadi, says a tough fight continues in the city and government forces have been taking casualties.
"The national flag is back in most of the city, but on the frontline we saw the black IS banner flying - defiant - less than a hundred metres away from the Iraqis'", he added.
A military spokesman said Friday's attack on a military base was carried out by suicide car bombers and fighters wearing explosive belts.
The army fought back with the help of air strikes by the US-led coalition.
The attack is the biggest launched by IS against Iraqi forces since Ramadi's recapture.
BBC World Service Middle East analyst Sebastian Usher says the assault shows the scale of the task confronting Iraqi government forces - as troops are faced with an unknown number of IS fighters still holding out on the outskirts.
Over the weekend Iraqi troops and allied Sunni tribal fighters helped civilians to safer places in Ramadi.
Their homes were crushed in the fighting and many had been hiding in the rubble for days, our correspondent says.