Madaya: Second aid convoy enters besieged Syrian town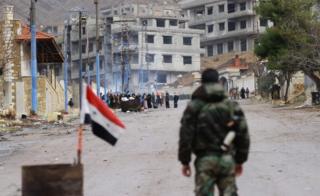 A second aid convoy in a week has arrived at the besieged rebel-held Syrian town of Madaya, where people have been dying of starvation.
The first six of 40 lorries carrying wheat flour and medical supplies entered Madaya on Thursday evening.
The UN says 40,000 people are living in appalling conditions in Madaya, which is surrounded by government forces.
A smaller aid convoy also reached two towns under siege by rebels in the country's north-west on Thursday.
The situation in Foah and Kefraya in Idlib province, where 20,000 people are trapped, is said to be similarly dire.
'Truly heartbreaking'
The UN, International Committee of the Red Cross (ICRC) and Syrian Arab Red Crescent lorries reached Madaya on Thursday afternoon, carrying 120 tonnes of flour, as well as medical supplies, blankets and clothing.
The convoy also includes a nutritionist and health teams to assess Madaya's residents, between 300 and 400 of whom are said to be severely malnourished.
"We are encouraged that we have been able to reach these towns, where thousands of people have been trapped for very long periods of time," the UN humanitarian co-ordinator for Syria, Yacoub El Hillo, told reporters.
"We do not want to see this as a one-off," he added. "Ultimately the real solution to this predicament, to the plight of the people besieged in these towns, is for the siege to be lifted."
Mr El Hillo added that the World Health Organisation was in direct talks with the Syrian government to secure the evacuation of hundreds of people in Madaya in need of urgent medical treatment.
Madaya, in the mountains 25km (15 miles) north-west of Damascus, has been besieged for six months by government forces and allied fighters from Lebanon's Hezbollah movement.
"The scenes we witnessed in Madaya were truly heartbreaking. People are desperate. Food is in extremely short supply," said Marianne Gasser, head of the ICRC's delegation in Syria, who accompanied the first aid convoy on Monday.
"The conditions are some of the worst that I have witnessed in my five years in the country. This cannot go on," she added.
The World Health Organisation and the UN Children's Fund said Madaya was "served by only two doctors, with a limited capacity to save the lives of civilians". "Health and medical services including immunisation are collapsing," they added.
Medecins Sans Frontieres (MSF) says a total of 28 people - including six babies - have died of starvation at a clinic it supports in Madaya since 1 December. However, Hezbollah denies there have been any deaths in the town.
Up to 4.5 million people in Syria live in hard-to-reach areas, including nearly 400,000 people in 15 besieged locations who do not have access to life-saving aid.
Opposition groups have said they want all sieges of rebel-held areas lifted before beginning negotiations with the government on a political solution to the conflict, which has left more than 250,000 people dead.
The UN plans to convene talks in Switzerland on 25 January, but a senior opposition member told the Reuters news agency the date was no longer realistic.
---
What's happening in Syria?
More than 250,000 Syrians have lost their lives in almost five years of conflict, which began with anti-government protests before escalating into a brutal civil war. More than 11 million others have been forced from their homes as forces loyal to President Bashar al-Assad and rebels opposed to his rule battle each other - as well as jihadist militants from Islamic State.
Why are civilians under siege?
All parties to the conflict are using siege warfare, encircling populated areas, preventing civilians from leaving and blocking humanitarian access in an attempt to force opponents to surrender. Shortages of food, water, medicine, electricity and fuel have led to malnutrition and deaths among vulnerable groups.
Where are the sieges?
Government forces are besieging various locations in the eastern Ghouta area, outside Damascus, as well as the capital's western suburb of Darayya and the nearby mountain towns of Zabadani and Madaya. Rebel forces have encircled the villages of Foah and Kefraya in the northern province of Idlib, while IS militants are besieging government-held areas in the eastern city of Deir al-Zour.
---
Are you in Madaya, Foah or Kefraya? Are you affected by the issues raised in this story? Share your experiences by emailing haveyoursay@bbc.co.uk
Please include a contact number if you are willing to speak to a BBC journalist. You can also contact us in the following ways: