Iran nuclear deal: Social media users welcome sanctions news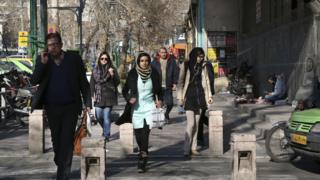 Sanctions imposed on Iran over its nuclear programme have been lifted after the UN confirmed the country had complied with a deal designed to prevent it developing atomic nuclear weapons.
Many Iranian social media users have been congratulating each other in their status updates. Facebook and Twitter are blocked in Iran but people are quite savvy in finding ways to bypass the restrictions.
Some say their feel strange to start the day without sanctions after so many years.
Some are commending Iran's negotiating team and president.
Facebook user Hasan shared the video moment Iran's foreign minister Javad Zarif read out the text of the deal's implementation, saying: "Morning without sanctions, the moment of implementation, congratulations all!"
Yalda on Instagram posted this joyous photo of her and her partner, saying it is "strange listening to the news feeling happy and hopeful". (Instagram is not blocked in Iran and people use it heavily.)
BBC Persian asked Iranians the removal of sanctions would affect people's lives.
Amir Sina said: "Lifting financial sanctions is important for me because a company I have been working with remotely now has decided to enter the Iranian market directly."
Reza: "The main type of sanctions I would like see to be lifted is financial sanctions of the banks. So that we would be able to work with the rest of the world and don't continue working with the current misery."
Majid: "As a computer programmer, I had no chance to work in many international markets and it was quite complicated to receive payment from foreign countries. I hope this problem will be solved."
Here are a few responses to BBC Persian's Facebook post:
Silent Outcry: "What bitter period the sanctions period was. May God not forgive those responsible for the sanctions. How much people suffered… I hope I see happiness and joy in the hearts and faces of my people again."
Mehdi: "I hope for a better future for our country now. This victory happened because the people of Iran chose the right president in the previous elections. Rouhani and Zarif had a key role in this major victory."
Behrouz: "Thank God we are back to about a decade ago before the sanctions were set. But we learned that the world is not a place for silliness and stubbornness and the country should be run by wisdom and knowledge. May the whole country learn from this experience."
On Twitter, Iranian-Canadian author and blogger Hossein Derakhshan expressed hope in Iran's youth:
Whereas a (sarcastic) Rasoul said this on Instagram:
"I am leaving Iran to move to North Korea. I am so much used to sanctions. Life has no meaning without sanctions. Iran is not a place to live anymore."
Translations by BBC Persian