Israeli woman dies of wounds after West Bank stabbing attack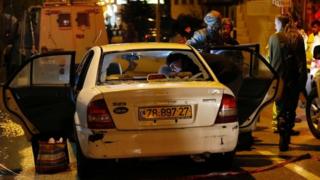 An Israeli woman has died of wounds she suffered in a stabbing attack by two Palestinians in a West Bank settlement on Monday, a Jerusalem hospital says.
Another woman was wounded before a guard shot dead both assailants.
The attack, which happened outside a shop in Beit Horon, was the third inside a settlement in eight days.
Since October, 28 Israelis have been killed in stabbing, shooting or car-ramming attacks by Palestinians or Israeli Arabs.
More than 155 Palestinians - mostly attackers, Israel says - have also been killed in that period.
The assailants who have been killed have either been shot dead by their victims or security forces as they carried out attacks. Some attackers have been arrested.
Other Palestinians have been killed in clashes with Israeli troops amid spiralling violence.
'Combined attack'
Officials at Hadassah Medical Centre in Jerusalem quoted by the Haaretz newspaper said that one of the two women stabbed in Beit Horon arrived at the hospital in a critical condition on Monday and that doctors unsuccessfully tried to stabilise her before she died on Tuesday morning.
One of the attackers was in his early 20s while the other was a teenager, police spokeswoman Luba Samri told the Associated Press.
Two homemade pipe bombs were also found near the scene of the attack, she said.
The incident prompted Prime Minister Benjamin Netanyahu to order the security forces to submit a "comprehensive plan" to improve security in the occupied West Bank.
On 17 January, a mother of six was stabbed to death inside her home at the settlement of Otniel. The following day, a pregnant Israeli was stabbed and wounded at a warehouse in the Tekoa industrial zone.