Syria crisis: Aid lorries set off for besieged areas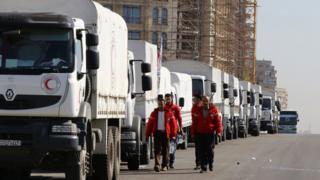 Aid convoys are preparing to deliver desperately-needed food and medicine to five besieged towns in Syria.
A spokesman for the International Federation of Red Cross (IFRC) told the BBC lorries had begun leaving Damascus.
They will head to rebel-held Madaya, Zabadani and Muadhamiya, near the capital, and to the pro-government northern villages of Foah and Kefraya.
The deliveries are part of an agreement that world powers hope will lead to a "cessation of hostilities" by Friday.
However, offensives by Syrian government forces and Kurdish militia fighters on rebel-held areas of the northern province of Aleppo have dimmed hopes for a truce.
'Test' for government
Almost half a million people live in besieged areas in Syria, according to the UN.
On Tuesday, the Syrian government approved humanitarian access to seven areas deemed by the 17-member International Syria Support Group (ISSG) to be most in need of relief. Five will receive aid on Wednesday, with Kafr Batna and Deir al-Zour expected to be relieved later this week.
Stephen Ryan, a spokesman for the IFRC, told the BBC that the joint UN and Syrian Arab Red Crescent convoys that left Damascus on Wednesday morning were carrying food, non-food items, medical equipment and medicines.
---
Where the aid is going
The seven areas named by the UN are:
Deir al-Zour, a city in the east under siege from so-called Islamic State
Foah and Kefraya, in northern Idlib province, besieged by rebels
Madaya, Muadhamiya, Kafr Batna and Zabadani, all in the Damascus area under siege from government forces
Syria: The story of the conflict
---
"It is the duty of the government of Syria to want to reach every Syrian person wherever they are and allow the UN to bring humanitarian aid," UN special envoy Staffan de Mistura said on Tuesday evening after meeting Foreign Minister Walid Muallem. "Tomorrow we test this."
The partial cessation of hostilities - which does not apply to the jihadist groups al-Nusra Front, an al-Qaeda affiliate that is part of a prominent rebel alliance, and the rival Islamic State (IS) - is also due to come into force across the country as part of the plan agreed by the ISSG in Munich last Thursday.
US state department spokesman stressed on Tuesday that Washington wanted to "see some progress" in the coming days, but he added: "I can't say categorically that a week from last Thursday there must be a cessation of hostilities."
Syrian President Bashar al-Assad has cast doubts on both the deadline and the concept of a cessation of hostilities "between a state and terrorists", a term he uses to describe all armed opponents to his rule.
Government forces, backed by heavy Russian air strikes, have meanwhile been gaining territory to the north-west of the city of Aleppo and are threatening to encircle rebel-held districts.
Earlier this week, a series of air and missile strikes on at least five health facilities and schools in two rebel-held towns - Azaz, near the Turkish border in Aleppo province, and Maarat al-Numan, in neighbouring Idlib province - killed up to 50 people.
'Secure strip'
The Turkish government, which opposes Mr Assad and considers the Kurdish militia also making gains in Aleppo province a terrorist group, wants to secure a 10km (6-mile) strip of territory on the Syrian side of its border to protect ethnic Turkmen and Arab communities who have fled the fighting.
"There is a game being played with the aim of changing the demographic structure. Turkey should not be part of this game," Deputy Prime Minister Yalcin Akdogan told A Haber TV on Wednesday.
Turkey, which is home to more than 2.6 million Syrian refugees, has long pushed for the creation of a buffer zone in northern Syria, but has faced resistance from the US and its Nato allies.
Mr Assad has warned that any ground incursion will have "global repercussions".