'I would sell myself': Egyptians mock Sisi over suggestion to help economy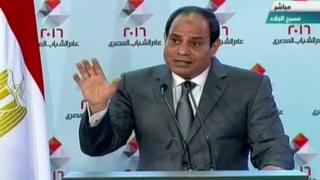 Egyptians have taken to social media to poke fun at President Abdul Fattah al-Sisi after he said he would sell himself to help the country's economy.
"If it were possible for me to be sold, I would sell myself,'' he said in a speech on state television.
A joke page on Ebay "selling" Mr Sisi was created and bids passed $100,000 (£72,000) within hours. The page was later removed.
Mr Sisi also asked Egyptians to make donations to the country by text.
The remarks were made as he unveiled an economic development plan for 2030.
Egypt's economic problems include a sharp decline in foreign investment and tourism revenues amidst years of social unrest.
The country also pays large amounts to cover fuel subsidies and servicing its domestic debt, and has suffered from high inflation and unemployment.
How important is tourism to Egypt?
Within minutes of Mr Sisi's comments, a listing for the sale of "a used field marshal" with a photograph attached on the president appeared on Ebay.
He was also mocked for asking Egyptians to each donate one Egyptian pound each ($0.13; £0.09) to Egypt by text to help lower the country's enormous financial burden.
Many users took to Twitter to criticise and make fun of his comments, and the hashtag #Ebay was a trending topic in the country.
Mr Sisi vowed to continue building the country "until my life or term [in office] ends" and urged Egyptians to listen only to him if they "truly love" Egypt.
"Do not listen to anyone else but me," he urged.