Biden criticises failure to denounce Palestinian attacks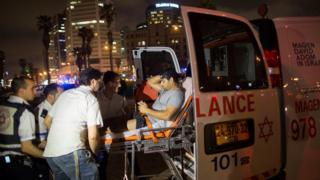 The US vice-president has criticised those who fail to condemn gun and knife attacks on Israelis, in an implicit attack on the Palestinian leadership.
Joe Biden was speaking during a visit to Israel overshadowed by violence.
Two Palestinians were killed by Israeli police in Jerusalem on Wednesday after apparently shooting at a bus, while a third was shot dead as he tried to stab soldiers in the occupied West Bank.
On Tuesday, an American tourist was killed in one of a series of attacks.
Taylor Force, a 28-year-old MBA student and US Army veteran, and 12 Israelis were stabbed by a Palestinian along the seafront of Jaffa, while Mr Biden was visiting the Peres Centre for Peace a few kilometres away.
'Incitement has to stop'
In Wednesday's attack in Jerusalem, two gunmen fired at a bus before driving to the Old City where police officers shot and killed them, according to Israeli police.
A Palestinian civilian was also seriously wounded in the shootout. Police said they were investigating whether he was shot by the gunmen or the officers.
In the West Bank, a Palestinian man was shot dead after he was said to have tried to stab Israeli soldiers at a checkpoint south of Qalqilya.
In separate incident in the Jewish settlement of Kdumim, a Palestinian woman was arrested with a knife near the house of local residents, the Israeli military said.
An Israeli also stabbed and wounded a Palestinian in the West Bank, apparently during a business-related argument, the Associated Press reported.
At a news conference following talks with Israeli Prime Minister Benjamin Netanyahu in Jerusalem, Mr Biden said there could be no justification for what he called the "horrible violence" and criticised those who did not condemn it.
"Let me say in no uncertain terms: the United States of America condemns these acts and condemns the failure to condemn these acts," Mr Biden said.
"The kind of violence we saw yesterday, the failure to condemn it, the rhetoric that incites that violence, the retribution that it generates, has to stop."
Mr Biden said his wife and two grandchildren were dining on the beach in Jaffa on Tuesday night, "not very far from where" Mr Force was killed.
"I don't know how exactly whether it was a hundred metres or a thousand metres," he continued, "but it just brings home that it can happen, it can happen anywhere, at any time."
Mr Netanyahu has repeatedly blamed the Palestinian leadership for incitement.
A spokesman for Mr Netanyahu noted on Wednesday morning that Palestinian President Mahmoud Abbas' Fatah movement had posted on Twitter a cartoon showing a hand holding a knife over a map of Israel and the Palestinian territories calling the Jaffa assailant a "hero" and a "martyr".
An aide to Mr Abbas, Nabil Shaath, told AP that Mr Biden "should start from where the real crime is, which is the Israeli occupation and Israeli colonial settlement, because the beginning is here for those who want peace in the Middle East."
At least 29 Israelis have been killed in a wave of stabbing, shooting or car-ramming attacks by Palestinians or Israeli Arabs since October.
More than 180 Palestinians - mostly attackers, Israel says - have also been killed in that period.
The assailants who have been killed have been shot dead either by their victims or by security forces as they carried out attacks. Some attackers have been arrested. Other Palestinians have been killed in clashes with Israeli troops.