Syria conflict: Senior al-Nusra Front member 'killed in air strike'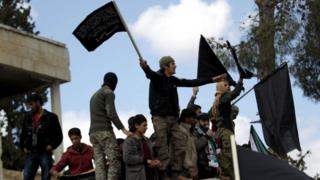 A senior member of the al-Qaeda linked al-Nusra Front was among 20 or so jihadists killed in air strikes in northern Syria, activists report.
Abu Firas al-Suri died, along with his son, in the raids in Idlib province on Sunday, the UK-based Syrian Observatory for Human Rights says.
The dead militants were also said to include foreign fighters.
The reports said it was not clear whether the air strikes were carried out by Syrian or Russian forces.
Syrian Observatory director Rami Abdel Rahman told AFP news agency that Abu Firas was meeting other leading jihadists in the village of Kafar Jales at the time.
Another al-Nusra target and one from allied Islamist group Jund al-Aqsa had also been also attacked, he added.
A temporary ceasefire between government forces and rebels has largely held for more than a month but it does not cover al-Nusra or so-called Islamic State.